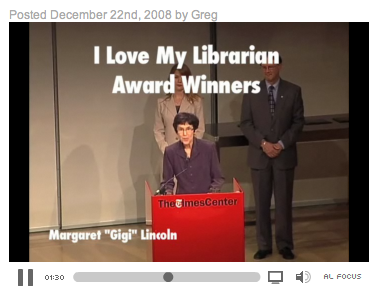 http://alfocus.ala.org/videos/i-love-my-librarian-award-ceremony
Ten winners of the inaugural Carnegie Corporation of New York/New York Times I Love My Librarian Award were recognized at a ceremony hosted by the New York Times December 9. The award, administered by the ALA's Public Information Office and the Campaign for America's Libraries, recognizes public, school, and college librarians for service to their communities, schools, and campuses.
Among the ten is my dear colleague and fellow UNT doctoral graduate:
Margaret "Gigi" Lincoln, Library Media Specialist, Lakeview High School, Battle Creek, Michigan
Checkout the video! A big congrats to Gigi!
(Via ALAFocus which highlighted Gigi's picture in the mailing – very cool.)