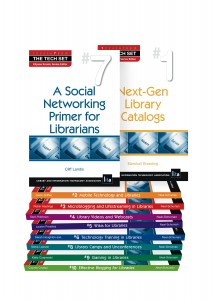 The Librarian in Black writes:
I'm pleased to announce that my first book, Technology Training in Libraries, is set to be released in March of this year!

This book has been a labor of love for the last year.  In it, I walk you through setting up a technology training program in your library, including basic technology training (both online and face-to-face) and general tech training principles and tips.  I also address creating and training to a set of "technology skills" expectations for staff members.  The bulk of the book walks you through the steps for setting up specific types of technology training: lunchtime brown-bags, 23-things style programs, technology petting zoos, peer training, and train-the-trainer programs.  On the practical side, I cover how to come up with a dollar value for estimating the return on investment for training programs, how to market training, creating a culture of learning, dealing with difficult learning, and measuring success with individuals and the library as a whole.  Finally, I offer a huge list of recommended resources at the end of the book.  At 125 pages, it is a concise how-to manual for successfully setting up specific technology training initiatives in a library.
The book is the 6th in a 10-book series called The Tech Set, a joint LITA & Neal-Schuman project edited by Ellyssa Kroski.  The entire series is  meant to be a series of practical how-to guides on specific technology services in libraries.  Other topics include next-gen catalogs, microblogging, mobile technology, gaming, unconferences, and more.  The set boasts some great names: Cliff Landis, Connie Crosby, Jason Griffey, Robin Hastings, Steve Lawson, Sean Robinson, Lauren Pressley, Kelly Czarnecki, and Marshall Breeding.
For more information, you can see my book's pre-pub website (which offers a peek inside the book) and for a complete list of the Tech Set titles, see the site for the entire Tech Set series.
Elyssa asked me to take a look at the set and consider an endorsement. I read multiple chapters from each work – and Sean Robinson's excellent tome on video making for libraries in its entirety and was very pleased. Pleased enough to endorse the set. I was especially taken with Jason Griffey's work on mobile library services and mobile technology and Sarah's take on a subject near and dear to my heart tech training. Here's what I submitted to Neal Schuman:
For those curious about next gen library catalogs or wondering if the library should be on Twitter, the Tech Set offers ten volumes of current thinking and best practice for a wide range of  library-related tech trends. Editor Elyssa Kroski has assembled a who's who of notable experts on these timely topics – including outstanding entries such as Jason Griffey on mobile technologies, Cliff Landis on utilizing social networking and Sarah Houghton-Jan on effective technology training. The titles are well-researched, clearly explained by a cadre of library technologists, offering tips and tricks for diving into blogging, gaming, video production, and  more. This set will be a useful addition to any librarian's toolkit for  planning for emerging technologies.
These up-to-date  volumes will surely find a welcome spot in my teaching and will probably serve as textbooks for many technology-related LIS courses. Congrats to all involved!