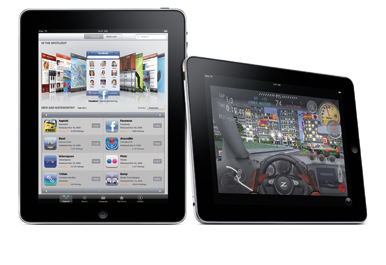 I think a lot of us monitored the chatter or tuned into a faltering U-Stream yesterday to hear Apple's announcement of the iPad. ( I think I was a bit more fond of iSlate or just "Slate" myself) But now the fact-finding, opinion sharing and general "what will it mean for consumers?" begins – as will all of the "what will it mean for libraries" conjecture.
Phil Bradley, across the pond, weighed in this morning:
http://philbradley.typepad.com/phil_bradleys_weblog/2010/01/first-thoughts-on-the-ipad.html
I'm really keen on the idea of using it as an e-Book reader. It's the first item that I've looked at which actually makes me think I'd really actively enjoy reading from it. Again, I can read from the iPhone, and this is going to be a better experience. Not so keen that the iBookstore is US only at the moment – until I can buy a book there and then, download it and just start reading, I'm not going to be buying one. That for me IS a deal breaker. I want to go onto a site, choose a book that's been published today, download it and start reading there and then. Download the morning newspaper? Grab my favourite magazine – absolute requirements for me.
Is this going to kill the Kindle? I think it will, yes – at least if the Kindle stays in its current incarnation. Simply can't see the value in buying one, certainly not on price comparisons.
Price. £450 or thereabouts for the largest size wifi (without 3G) is going to be fine by me. I don't need instant connectivity to the net – I have a laptop/dongle and iPhone combination for that. Though the idea of running around with iPhone, iPad and laptop and dongle and any iPad peripherals is not a great idea. I suspect that I'd use it at home on my wifi, download what I need, power it up and be on my way. We don't yet know about dataplans in the UK, but I doubt I'll be tempted, unless my provider is intelligent enough to work out a dataplan that includes the iPhone.
There's a lot of interest in the use of the thing in academia already – just try a twitter search and see what I mean. On a tangent – I wonder how long it's going to be before someone publishes the Harry Potter 'Daily Prophet' onto it.
I've been pondering myself how it will fit into my digital lifestyle: Will it mean packing laptop, iPhone & iPad to travel? Will it replace many of the media duties assigned to my laptop when I'm in my TV-less spot in Oak Park? Can I travel with the iPad and run Keynote presentations without a worry?
Also, I've held off buying a Kindle to see what Apple was going to do. The slides from yesterday's talk make the experience of e-books attractive and the video at apple.com is certainly alluring. I love the idea of the iPad being my media device but still pondering.
Take a look at Michael Casey's "Wish List" for the tablet he published on Tuesday. As happens more often than not, our opinions are in sync as is our wants. Sadly, some were not included – yet:
Amazon owns Audible. Audible is the best provider of audio books. Sorry Overdrive, but it's true. Audible's audio books could sync with Amazon's ebooks and allow the user to switch seamlessly between reading and listening. A lot of people I know like to do this, and making it seemless would attract a new style of reader.
Strike a deal with Netflix to allow Netflix subscribers to easily view content on the new Tablet. Yes, Amazon's on demand video content is good, but Apple needs greater depth and video downloads via iTunes are slow and expensive. The Netflix subscription model of streaming is a much better developed service.
Subsidize the cellular connectivity just like Amazon does for the Kindle. Leo Laporte has been arguing this for a long time and I have to agree. Base cellular service needs to be included in the package, even if it's just for content download and streaming and does not include browsing or email.
Offer a web browser and the same quality email interface found on the iPhone. A web browser and email require ever-present connectivity. This may need to be an extra-cost service but a Tablet without the option for web browsing or email will fail. The two cheaper Kindles can get away with not providing email, but the Tablet can't. One option here is to allow tethering to the iPhone so users don't have to pay for two monthly data plans.
Don't build Flash into the browser. Force developers to keep moving towards HTML5.
A forward facing webcam would allow the type of collaboration iPhone users have been wanting for a long time.
The discussions Phil pointed to about educational/academic use of the tech are the most intriguing to me, given my current, post-EDUCAUSE LI mindset – what would a classroom full of these things look like? What would the experience be to teach & learn via rich-media text books, the Web, etc? Could I design a course experience based on all of my students having the iPad:  an "app" or streamlined HTML5  version of my WPMU/BP sites developed with Kyle Jones?
These things are true:
A brave, forward thinking university will jump on this in the coming months experimenting with ways to bring apps, connectivity and interaction inside the classroom experience and outside as well.
A brave, forward thinking library will do the same experimentation – possibly loaning the device, utilizing them in training, making them available for use in the library or incorporating them into on the go reference and service interactions. x
AND  a whole bunch of technologists/bloggers/podcasters/ etc will spend the next 60-90 days discussing the feature set, possible value and bright or dismal future of the iPad. Game changer?  I knew the iPhone was in 2007. For this, the verdict has yet to come in.
More:
David Pogue: http://pogue.blogs.nytimes.com/2010/01/27/the-apple-ipad-first-impressions/
"My main message to fanboys is this: it's too early to draw any conclusions. Apple hasn't given the thing to any reviewers yet, there are no iPad-only apps yet (there will be), the e-bookstore hasn't gone online yet, and so on. So hyperventilating is not yet the appropriate reaction."