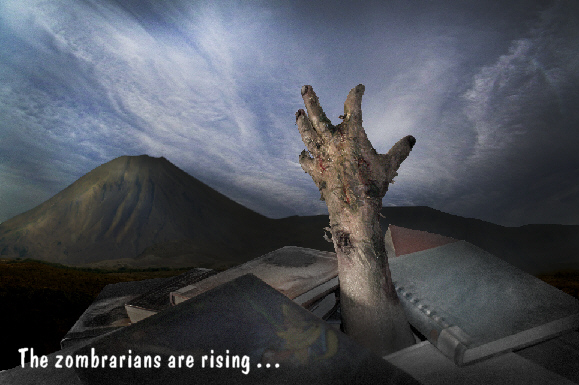 Via Benjamin Wheal comes this spooky idea you could adopt for your library or library group.
This year the South Australian Library & Information Network (SALIN) Committee has chosen to celebrate our diverse and changing profession through production of the 2011 calendar "Zombies in the Library". In 12 beautifully rendered scenes the calendar covers such topics as the role of the Zombie in reference, the frustrations faced when the Undead hog the photocopier, and for cataloguers, poses the eternal question: 299.675 or 398.21?  All calendars come in A3 size, are professionally bound and beautifully printed (and you can even choose your starting month). Whether its something for the wall in Technical Services or simply a Xmas present for Mum, be sure to place your order.
To preview the calendar simply go to:
http://www.redbubble.com/people/salin/calendars/6062484-15-zombies-in-the-library
Profits from each sale will go towards recovering the Committee's costs and donated to a charity (if we get to that point).