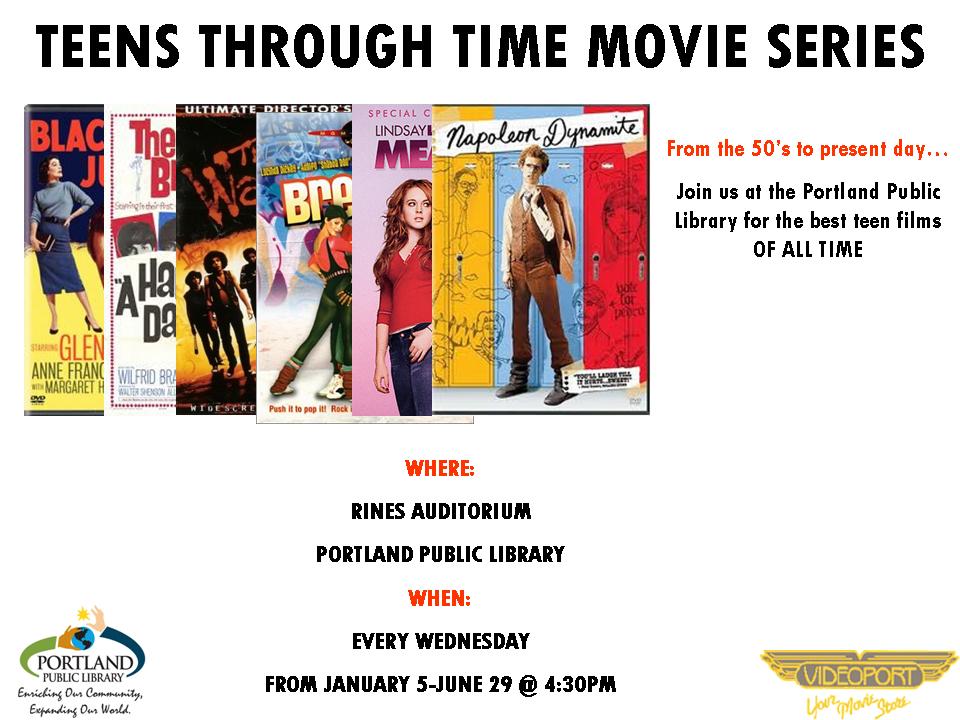 As much of a fan of putting together elaborate and  unique programs at my library, at the same time I feel it's good to balance things out with some laid back stuff as well.  This lead to my desire to seek out a movie license so that we could show some films.  It was a program that could easily happen and at the same time give our teen patrons something to do.
I tried a Random Movie Night program at first.  It was probably the least amount of work I put into a program and I had hoped for high results.  It wasn't that big of a success.  I'm still trying to figure out why, but I feel like it had something to do with uncertainty.  If someone's gonna make the trek out to the library to see a film, they want to make sure it's something they'll enjoy.
With that, my colleague Michael Whittaker and I put our thinking caps on.   How could we effectively use this movie license and still keep the program simple?  It was Michael who came up with the theme Teens Through Time, a film series showcasing teen movies through the years.  Our hope was to show that what people call "teen angst" wasn't just something that was happening to their generation, but instead a problem that teens have faced through the years.  We quickly came up with a list of films we were enthusiastic about and put our creation out into the world.  For the full list of what my library is showing during our Teens Through Time series, click here
We got some great feedback on our program.  Our local newspaper covered the Teens Through Time series two weeks before it began, drawing some great feedback from our community.  If that wasn't enough, the same paper ran an very positive op-ed on the program titled Our View: Portland Library film series shows teen drama is not new.
Students who watch the movies will see that fashions may change but people don't, and the issues that they are wrestling with have been constant themes.

They also may recognize that, like some of the actors on the screen, they will likely play different roles in the course of their own lives, as they have kids, who also grow up.

The series is a great use of the renovated library facility and should give teens — and adults — plenty to talk about this winter.
So far, we've gone through two movies.  At the screening of Blackboard Jungle, we had a grandmother, her daughter, and granddaughter show up for the film.  The grandmother told us that she had seen the movie in the theater when it came out and that her daughter had seen it on VHS many years later at home.  It was the granddaughter's first time seeing the movie.  Three generations of family in the public library, enjoying just one of the many services we offer.  Awesome.
-Post by Justin Hoenke, Tame the Web Contributor