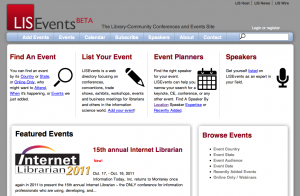 Be sure to check out
From the About page:
About LISEvents
LISEvents is a community-based site intended to aggregate listings of library-related events of all types, sizes, and locations. The site also helps speakers find gigs and event planners find speakers. The idea for the site has been kicking around in one form or another for quite a few years. Peter Murray did some work on a beta version around 2005.
Community-Driven
The LISEvents project leverages the entire library community. Anyone can post an event, and we encourage speakers and vendors to sign up for an accounts and build their profiles to get speaking gigs or promote their events.