Over the weekend, while all my American colleagues were heading to The Big Easy for #ala11, I jumped north of the border to attend TEDxLibrarians at the University of Toronto. It was an inspiring day in a beautiful city and the speakers gave me a lot to think about on my long drive home.
TEDx events are inspired by, and take their name from, the wildly popular TED conference. Local and independently run, TEDx organizers build the event around short and inspiring talks to create a TED-like atmosphere that is meaningful and thought provoking. Since TED first began sanctioning these independent events there have been an astonishing 2000 of them held around the world. I feel very grateful to have been able to attend one of these and TEDxLibrarians was everything for which I hoped.
The event was organized and hosted by two Ontario-area librarians, Shelly Archibald and Fiacre O'Duinn, and they deserve huge praise for how smoothly the day ran. Not only was everything timed perfectly (with lots of free food!) but Shelly and Fiacre put together a great lineup of speakers who were engaging, open and excited about sharing their ideas.
The first speaker was Amy Buckland. The driving force behind her talk was the idea that access to information is a human right. She spoke passionately about how librarians need to fight to make the world a better place. Rather than thought leaders, Buckland wants librarians to become revolutionaries willing to overthrow and challenge the system. She hit on many points that I think a lot of librarians worry about, e.g. the broken world of scholarly publishing, big companies controlling electronic content, the digital divide and privacy issues. If librarians work harder to be "doers" instead of "sayers," they can effect all of these things in a positive way.
Eric Boyd may not be a librarian but there is a lot that librarians can learn from him. A self-described hacker, environmentalist and transhumanist, Boyd gave one of the most interesting talks of the day. Discussing his past experiences with hackerspaces and maker culture on the backdrop of how libraries could incorporate them, Boyd offers a different model for libraries – one where libraries provide creative space for people to meet and collaborate. He ended his talk – in which he discussed North Paw and Heart Spark, two things to have come out of his participation in hackerspaces – with a plea for libraries to be places of "noisy learning." His line about "programming being the new literacy" was probably one of the most tweeted things from the entire event.
Next was a TED talk by David McCandless about how he takes data and makes it beautiful and easy to understand.
Sara Grimes' presentation was about storytelling in gaming and how librarians can begin to see the opportunities this affords them in reaching out to children. She provided some examples and really made the whole idea of narrative within gaming come alive with possibilities.
In Siobhan Stevenson's talk the challenges libraries are facing and how librarians need to plan for things like loss of funding and downsizing were addressed. She drew on her research studying "library planning policy documents for services in Ontario," the results of which every librarian should take note.
After lunch another TED talk was shown. In order to avoid any postprandial naps, this talk by Sebastion Wernicke was light and humorous.
*In honor of TED's five years online Sebastion Wernicke updated his statistics on the TED blog this week.
Mita Williams gave her talk without the aid of any slides of other visuals. However, it was one of the most captivating and personal of the day. She began by sharing her story about being a young freshman at university opposed to the first Iraq War but lacking the voice to explain herself. When the second Iraq War came around in 2003 she was still at an university, but this time it was as a librarian. So, she organized a panel discussion about the war that gave students the opportunity to come and learn and discuss it without the noise of the mass media or politicians filling their ears. Since then she has organized and participated in many more events like this – from Unconferences to Jane's Walks to Pecca Kucha talks. And so, her plea to us at TEDxLibrarians was to host more events, change conversations, involve the community and look for collaborative models that libraries can copy in order to bring people together to meet one another and learn.
How can we get from /facepalm to /faceroll? This is a question that Melanie McBride wants to answer in her research and in her role as an educator. In her talk she discussed her own experience as a gamer and the potential for learning that gaming provides, which is just now starting to be realized (though gamers knew about this potential years ago). However, McBride urges librarians not to make it about "gamification" or saving the world. Rather, gaming needs to remain voluntary so that people will embrace and learn from it. There are entire complex worlds to engage with in games and whole identities are created there.
Breaking from the TED rules all the speakers agreed to have a sort of Q&A/conversation with the audience during the afternoon break. Whereas this might not work so well at a larger conference, it turned out an interesting discussion about the idea of "thought leaders" and the term "librarian."
The last speaker of the day was John Miedema. He holds a MLIS and is the author of Slow Reading, a book in which he examines the idea of slow reading in order to learn and re-imagine the pleasures in reading. On one level his talk about was about slowing down to engage with text in order to learn from and appreciate it. On another level his talk was about the new ways in which people are reading on various devices and how this effects our thinking and understanding.
What impressed me the most about the breadth of speakers was how relevant and important their ideas all are for librarians and libraryland (thanks to Buckland for teaching me that new term). All the speakers at TEDxLibrariansTO reaffirmed how many opportunities are available to librarians who want to make a difference and help their community.Fiacre O'Duinn's closing statement brought the entire day and everything that was discussed into focus. He talked about growing up in Ireland and how a librarian secretly provided illegal newspapers to his family. He told the story of how when his friends turned to heroine or ended up in jail, he had the library and that saved his life. When he got a little choked up I do not think a single person in the room did not feel it with him.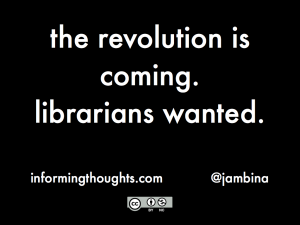 – By TTW Contributor Ben Lainhart