UPDATED ON 1/28/12 (see below)
*sort of
I bought a Kindle for these reasons and for the past few days, I've been using it in a few different ways.  I bought two books from Amazon totalling $6.99.  But most of the space on my Kindle is taken up by a collection of PDF's.  Yes, this is how I'm hacking a Kindle.  It's my PDF collection device.
Does your library subscribe to some databases?  Chances are, they do, and this will be where you will start your hacking.  My current topics of interest include empowering patrons to create "stuff" in the library, user experience, teens and technology, and The Beach Boys.  I dove into these topics pretty deeply one night and searched for PDF's that interested me.
If I couldn't find an article in PDF form, I turned to Google Chrome extensions to help convert that text into a PDF.
Once I downloaded the articles, I sent them to my Kindle account using my Send to Kindle email address.  The next time I turned on my Kindle, I synced the device and viola!  My PDF's showed up, ready to view, highlight, share, and cite.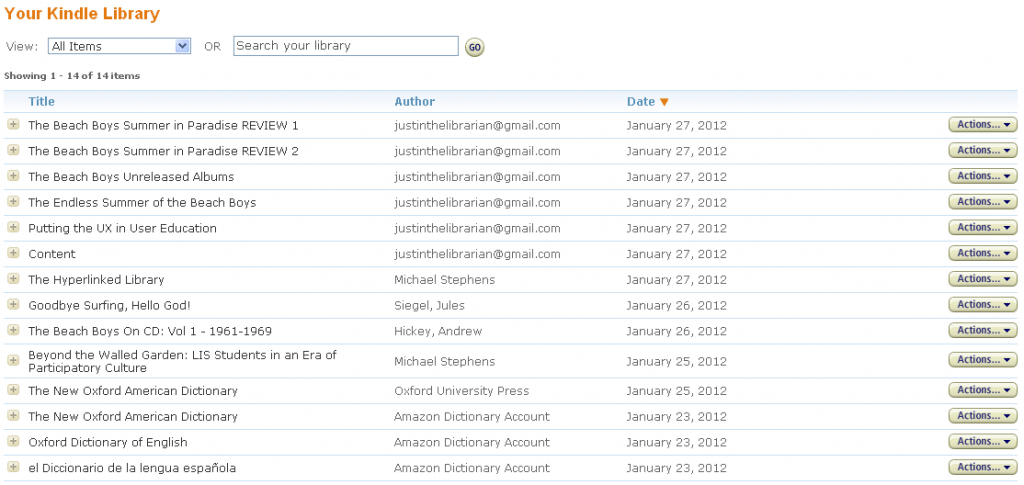 At first, the process may be a bit cumbersome (and there may even be better ways to do it!), but once I got into the groove of searching/saving/uploading PDF's, I had quite a collection in no time.  I highly suggest that if a librarian has a patron that has a Kindle and is interested in collecting their research that they at least think about using this way to aid the patron.
UPDATE!
I got an email from @verbivoria last night (thank you!) that explained how to use Instapaper to  send web articles to your Kindle:
You can use Instapaper to save web articles you like, convert them to Kindle files, and then import to the device.
The neat thing is this: you install a "Read Later" button on your browser, and when you find something that you want to peruse later, you click the button. I find this invaluable.
I found these two articles to be really helpful if you need help setting up this process: Lifehacker   Dave-Smith.org
-Post by Justin Hoenke,Tame the Web Contributor