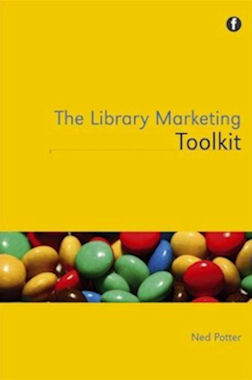 Ned Potter has put together a new book on marketing libraries. TTW's own Justin Hoenke helped him out on the chapter on marketing to teens using technology in libraries. Super cool!
The Library Marketing Toolkit will be published in July 2012, by Facet Publishing. This website acts as a companion to the book, as well as a stand-alone marketing resource.
To quote the blurb, the book is: "A toolkit of ideas to inspire action. As libraries continue to fight for their survival amid growing expectations, competition from online sources and wavering public perceptions, effective marketing is increasingly becoming a critical tool to ensure the continued support of users, stakeholders and society as a whole. This unique practical guide offers expert coverage of every element of library marketing and branding for all sectors including archives and academic, public and special libraries, providing innovative and easy-to-implement techniques and ideas.