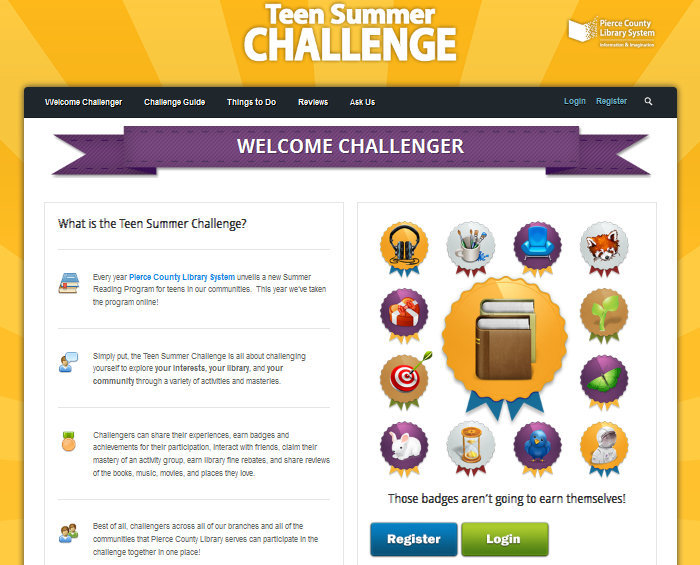 Every year Pierce County Library System unveils a new Summer Reading Program. This year we've taken the teen program online (Teen Summer Challenge http://teensummerchallenge.org/) and challenged participants to explore their interests, their library, and their community through activities and masteries. Challengers can share their experiences, earn badges and achievements, interact with friends, claim their mastery of an activity group, earn library fine rebates, and share reviews of the books, music, movies, and places they love. Best of all, teens throughout out county library system can participate in the challenge together in one place!
The program has been going for more than a month so far and involvement is more than twice what it was last year. David Durante, one of the project managers, has promised the Youth Services librarians not to shave for a year if we exceed 2000 participants, and of course that's elevated enthusiasm levels. What's most remarkable to me is that this elaborate, interactive website was built on WordPress for less than $250. Kudos to librarian Patrick McVicker, its principal designer, for that. (Contact him at pmcvicker@piercecountylibrary.org)
We asked staff to beta test all of this in May. Over 150 did so, and they loved it. A few staff found themselves playing late into the night. Now that the teens got a month's headstart, librarians outside Pierce County are welcome to sign in and try it out if they're interested. Earn a badge or two.
Steve Campion is Library Trainer and IT Specialist at Pierce County Library System in Tacoma, WA. He is a principal contributor to the library's social media sites and author/editor of Mostly NF and WA-List.com.