Note from Michael: I met Tippecanoe County PL (Lafayette, IN) director Jos Holman at IPLA last week. He told me about his library's creation space "The Portal." S. Neal Starkey, Head Technology Librarian, followed up with some info and a link. I thought this was a good example of what's possible in a medium-sized midwest library.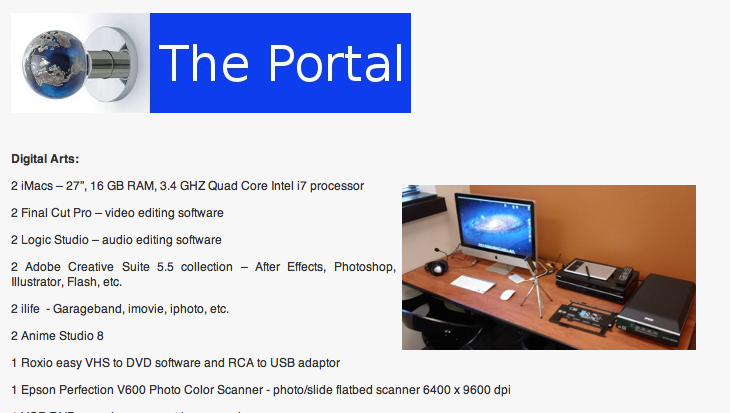 The Portal is a new public space the Tippecanoe County (Indiana) Public Library system custom-designed to give its customers a place to learn, create, and interact with new technologies. This space is currently populated with a mix of desktops, laptops, and tablets. The design and seating are flexible — accommodating individuals, organized groups, and impromptu collaborations. Most design, furniture, and equipment choices allow for possible additions and changes in future years.
Four specialized suites satisfy customers of many ages, abilities, and interests:
The Videoconferencing Suite features a SMART™ Board, web cam, and flexible meeting furniture. A retractable wall converts the larger area into two smaller training spaces.
The Language Learning Suite provides an enclosed space with headsets for speaking and listening. It currently offers Mango® Languages.
The Family Suite offers PCs set up for adults and children, as well as educational technology featuring LeapFrog® LeapPads™, Tag™ readers, and Tag™ books.
The Digital Arts Suite presents two iMacs with an array of high-end audio, photo, and video editing software. Professional-level production equipment includes digital video cameras, midi keyboard, midi audio interface, graphics capture tablets, and a green screen for the filming/editing original content. In addition, this suite currently features equipment for digitizing home movies, photos, slides, and negatives.
www.tcpl.lib.in.us/theportal