Video: Hamburg, TUHH. Courtesy of the Zukunftwerkstatt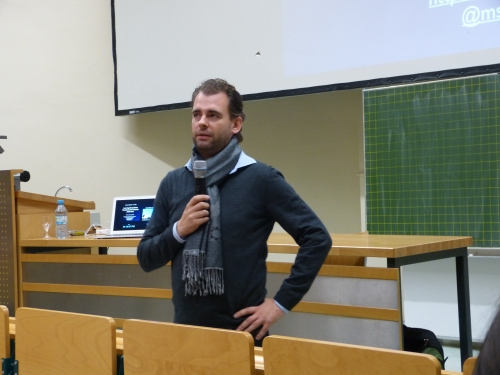 Christoph Deeg was my gracious traveling companion for much of the week. (Photo by Martin Kramer)
http://zukunftswerkstatt.wordpress.com/2012/11/06/eine-woche-mit-michael-stephens/
I want to extend heartfelt thanks to everyone who attended my talks in Germany and the good folks who worked so tirelessly to bring me over for a four stop tour with "Learning Everywhere." Special thanks to Christoph Deeg and Julia Bergmann of the Zukunftwerkstatt for planning the tour and making everything so smooth. Also to Prof Hans Christoph Hobohm for facilitating in Berlin and everyone else who welcomed us at each stop! The dinners, discussions, chats over wine and everything else were wonderful.
Presentation Abstract: Mobile and Web technologies are changing the way we live and learn. Libraries can play a key role in this future. Imagine the emerging hyperlinked library as a creation space, community space, anything space. Imagine this library available everywhere via mobile devices and tablets. How will services change? What skills will staff require? What does this future look like going forward as we encourage learning everywhere as a means for transformative change for ourselves and our users.
Here's a breakdown of our tour:
Mon 22, October
Berlin, Berlin Central and Regional Library
Tue 23, October
Frankfurt / Main, National Library, Sitzungssal General German National Library
Thurs 25th, October
Cologne, Cologne University of Applied Sciences , Claudius Straße Auditorium
Fri 26th, October
Hamburg, Hamburg Harberg University of Technology (TUHH)
On Wednesday the 24th, we also spent 90 minutes discussing the future of library services in the home of Consul General Kevin C. Milas. The Consul General and his wife were most hospitable and welcoming.
Special thanks also to Nancy Rajczak and the US Embassy Berlin for the sponsorship of this most rewarding visit to Germany to discuss learning and technology with German librarians and museum folk.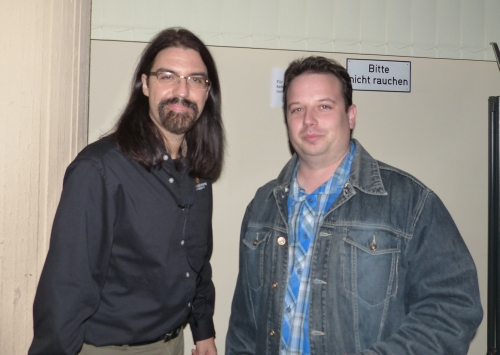 With Martin Kramer at the Cologne presentation.
Flickr Set: http://www.flickr.com/photos/michaelsphotos/sets/72157631992753111/
Other Links: