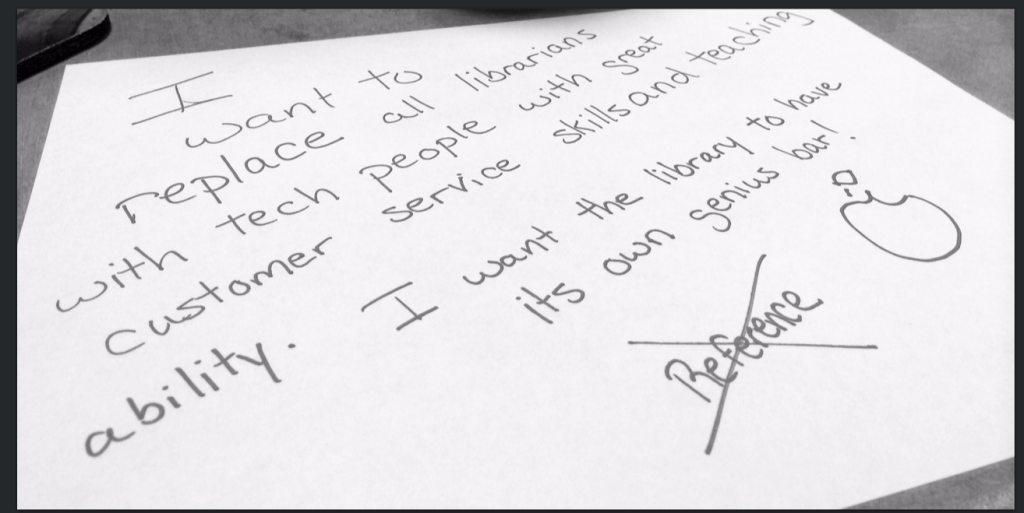 My new column is up at Library Journal:
Let's unpack this sweeping suggestion for improving libraries further. What of teaching ability? I advise my students to make sure they take courses in user instruction and technology, no matter where they want to work. Delivering instruction should be a part of every professional's skill set: in a training room, across the desk, in the stacks, on the fly. Maybe it's time to add creating a short training session or learning module to the interview process for all librarians, not just those in colleges or schools.
Borrowed from Apple, the Genius Bar concept applied to libraries is not new, but it's a welcome addition to many library settings. David Weinberger, in "The Library as Platform" (ow.ly/­tBDAe), notes that the Genius Bar might be one of many channels for users to interact with librarians. Libraries such as DOK Delft and others have tried various permutations of walk-in tech ­assistance.
Don't miss the comments, including this interesting  snippet from a reader named Dan:
"after reading the shaming post, i am conflicted which is more absurd: the original note or all the "followers" and their "likes." technology has it's place but you will have to pry the hard-copy, three-dimensional, fixed ink on paper, book from my cold dead, fingers."
Insert witty reply here.
🙂
Also – a big shout out to Monica Harris and her creation culture course she's teaching this semester at SJSU SLIS as I prep an introductory module on creation in libraries for our new core LIBR 200 course Information Communities.
"LIS curricula must keep up as well. At San José State University (SJSU), CA, School of Library and Information Science (SLIS), we're offering a new class entitled "Production of Knowledge and Content in Libraries," taught by Monica Harris, deputy director, Schaumburg Township District Library, IL. Her syllabus, focused on participation and creativity, runs from digital creation spaces to the Maker movement to a module called the Importance of Informal Learning. Another unit highlights Robotics and Electronics: Arduino, Sensors, and LEGO."
I am impressed with the framework Monica used to explore knowledge creation in libraries. The students in the course will have some invaluable experience for this new landscape.
http://lj.libraryjournal.com/2014/03/opinion/michael-stephens/a-genius-idea-office-hours/
http://librarian-shaming.tumblr.com/post/68672130972/i-want-to-replace-all-librarians-with-tech-people