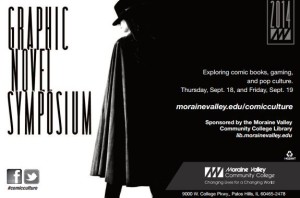 We are very excited about our upcoming Graphic Novel Symposium, which will be in September of 2014. Check out our website, http://www.morainevalley.edu/comicculture. We are aiming to create an academic event that can be utilized by our faculty members in the arts and humanities (and maybe other areas of the curriculum).  We'll be featuring faculty lectures, local comic shops, a gaming event, and a cosplay event.
We've been working on the marketing for this ,  and we recruited one one of our awesome catalogers, Brenda Lozano, as our model for our images. Yes, it's true. When Brenda is not cataloging our electronic resources and helping to write our metadata standards, she is modeling.  You can see the results of this shoot at our downloads page.  Also, check out this short video about the photo shoot.
Behind the Scenes: Graphic Novel Symposium Photo Shoot
—————————————————————
Troy A. Swanson is Department Chair and Teaching & Learning Librarian at Moraine Valley Community College. He is the author of the book,Managing Social Media in Libraries. You can follow him on Twitter at @t_swanson.