It seems like I've been here forever, but as of this month I've been at the Chattanooga Public Library for 1 year, 4 months.  In that time, we've accomplished a lot of great things for the Chattanooga community. At the same time, I haven't been able to share as much because….well, things just got really busy in a good way! So this post is my Chattanooga catch up post….a way to share all of the positive things that have been happening around Chattanooga over the past few months.
MANAGEMENT
One of the big new things in my world is library management.  I manage The 2nd Floor, which is our brand name for the kid/tween/teen area.  It's a huge space full of many different personalities, ages, and ideas.  I do the weekly scheduling, make sure payroll gets in on time, order supplies, think a lot about the big picture stuff, and make sure that the staff is happy. Looking at what I just wrote doesn't seem like much what I've learned is that a lot of these little things add up. My brain is constantly running, making sure that I've done all the necessary management things while still keeping focus on the big picture: The 2nd Floor as a place in the community where kids, tweens, and teens can have fun and learn something along the way.
It's a change for me and I think it would be a change for most youth services librarians. Why? We're very creative individuals. We dream up programs in our sleep. We are the living embodiment of a makerspace.  Blending that creative brain with a management brain has been a challenge, but I'm getting there.  You don't have to kill one to have the other. You can make it work together.
VOLUNTEERS
One of the big realities that I'm learning about it that you will never have enough staff to do everything you want to do. The other part of that is that, wow, hiring people is expensive. It's not just the salary you need to look at, but benefits and all that other stuff.
That's where volunteers come into the picture.  The problem is that I've never been good with managing volunteers. It's just not in my skill set and I'm ok with that. Luckily, Megan Emery is good at that and we work together. So basically when Megan got to Chattanooga she took the keys to the car and ran with them.  And here's how awesome it has been: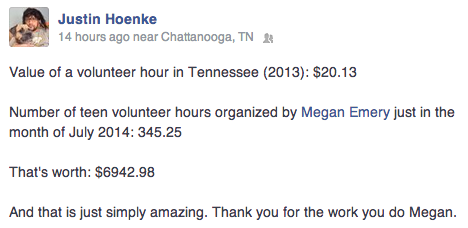 July was one of our biggest months with teen volunteers and it showed. They took on projects that helped spruce up The 2nd Floor, making it more visually appealing for our community.  They became our 3D printing experts, working one on one with anyone interested in trying out the service for the first time.  Our 2nd Floor staff had more time to focus on their projects, focus on customer service, and in general just be great employees.  Volunteers matter a whole lot for the public library, and it's even better when you give them a chance to work their own special brand of magic when they volunteer.
Megan wrote a really great piece about meaningful volunteer opportunities here and I highly suggest you check it out.
STATISTICS
Every librarian has a library guilty pleasure.  My guilty pleasure is statistics.  I love collecting them, analyzing them, and then using those stats to help me make decisions. I love it when stats are down because it tells me that I need to grow and change something. I love it when stats are up because, well, that is just something that makes you feel really good.
I won't bore you with individual stats that went (way) up last fiscal year at the Chattanooga Public Library (if you wanna check them out), but I will say this; having an idea of what is/what isn't working will really help you better serve your community.  It sharpens your focus and allows you to better delegate resources to the events and programs that best serve your community. Starting this month, the 2nd Floor started keeping track of how many people use the various areas of our space. The results so far have given us the numbers to back up exactly what all of our staff have been feeling: we're very busy these days. As a manager, this allows me to look at how we're working and how we can make improvements to better suit our staff.
CONSISTENCY IN PROGRAMMING
I've grown to really love strong, consistent programming in libraries.  If you do something well, you keep doing it and all throughout the process you keep on growing, refining, and making things better.  However, at the same time you have to recognize when something isn't working and make those changes.  Consistent Programming gives your library something great to share that your community will remember.  Think of each program as a brand.  Get those brands into the minds of the community and they'll be asking for more.
Just a few days ago we wrapped up the 2014 session of DEV DEV: summer of code at the Chattanooga Public Library. This program was created and ran by the Library, engage3D, AIGA Chattanooga, and the Benwood Foundation in 2013. Having this successful event repeat once again this year has helped us make the DEV DEV brand even stronger. When you mention DEV DEV in Chattanooga, the community knows that it is a program that teaches teens about HTML, CSS, Javascript, and Robotics.  DEV DEV has become a brand that stands out in the community. Besides working with great partners, what made this possible? Consistency in programming.
For more on DEV DEV 2014, click here! 
PEOPLE
Back in 2010 when I wrote my first TTW post I talked about leadership and working in groups.  At the core, that post was all about what really makes the public library work….PEOPLE.
It's the people that work in the library that make things awesome for the community. No matter where you go in libraries, you always have to remember that it's people that matter.  Treat them with respect and love.  Help them all along the way and let them know that their work counts in making your community a great place. I try to remind the folks that work on The 2nd Floor of that all the time.  Working in a public library is important work for the community and YOU are making your city a better place to live.