From the moment that I began working in libraries in around 2007, I was not a fan of Summer Reading programs and the themes they were generally packaged around. They were boring, cookie cutter, and out of date. The themes seemed to be 1-2 years behind what was popular at the moment.  As a teen librarian, my job was to take these themes and put some excitement around them. I found it to be a difficult task that took energy away from what I consider to be the most important part of any public library: the community that uses the library services.  Why spend energy on something that doesn't reflect your community? I've been asking myself this question throughout my career. It's taken awhile, but as time has passed the answer has become clearer and clearer: summer reading programs should not be catch all, cookie cutter programs. They need to be crafted and designed to meet the needs of the community.
My early research into summer programs at libraries turned me onto the Summer Game at the Ann Arbor District Library, a remarkable game where library patrons can earn points, badges, prizes, and more for participating. I loved this approach. However, I knew that at this moment my library and the community did not have the means to achieve something like this.  This is ok!  Instead of saying "oh well, we can't do this, so let's just do what we used to do" we said "NOPE! Let's keep moving ahead!" And ahead is where we went with MAKE. PLAY. READ. LEARN.

The idea is simple: what are the themes we can organize library programming around? What is our community interested in? Using ideas for STEAM and Every Child Ready to Read, we came up with 8 themes to focus our efforts around: Design, Drama, Tinker, Technology, Music, Writing, Science, and Art. We (myself and Children's Services Coordinator Lee Hope) then assigned our staff to a certain theme and tasked them with coming up with 5 simple programs focused around that theme. 20 staff members contributed and came up with amazing program/lesson plans, supply lists, budgets, and more.  Everyone who created these themed programs in a box got a $150 budget.  These "theme programs in a box" will travel throughout our library branch locations this summer and serve our kids, tweens, and teens with two programs every day (one for kids, one for tweens/teens) over the course of 8 weeks.
There are two big parts I like about MAKE. PLAY. READ. LEARN.  First up is how we had all of our staff involved in the planning. Coming from a strictly youth services background, I always try to remember how important it is to have the youth services voice at the table.  Youth Services traditionally drive library circulation, programming statistics and more. Simply speaking, kids, tweens,  teens and families love libraries. It is easy to say "yes, we will do this and that for the kids". Those kind of initiatives will work out in the end but I find it far more rewarding and successful at the core if you involve as many of the youth service staff that you employ. Youth Services staff have a treasure trove of ideas in their head. Why not create a program and give that program the structure and support to unleash staff creativity? I'd like to think that MAKE. PLAY. READ. LEARN did that for our amazing Youth Services team at the Chattanooga Public Library.
The other big part I'd like to finish with is the branding. To me, a successful program has to reflect the community it serves. What do Chattanoogans enjoy from the library? They make, they play, they read, and they learn in our libraries.  With that in mind, we are trying to tie it all together into one package that the community can identify with.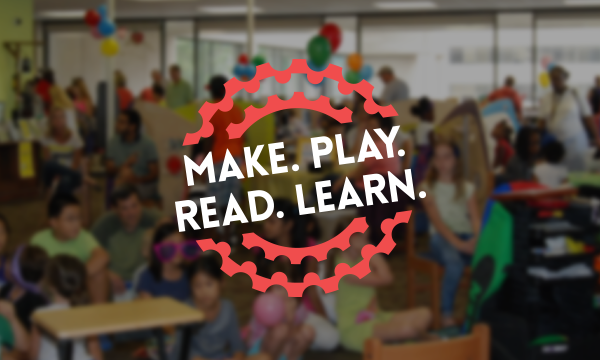 The final step in our story is unwritten. Throughout May 2015, we'll prepare for MAKE. PLAY. READ. LEARN at our library locations.  June and July will be the months where everything happens.  It's super exciting and a whole lot of scary, but you know what? We'll make it through and we'll give some kids, tweens, and teens and amazing summer.
MAKE. PLAY. READ. LEARN images and logo design by Chattanooga Public Library Web Developer/Designer Kyle Gordy.
-Post by Justin Hoenke, Tame the Web Contributor