One of the big themes running through my life as a student this semester is connecting, mainly through connecting to others in the profession through the Internet. When I recently read the quote from the New Yorker about "some of our closest friends and most significant professional connections are people we've only ever met on the Internet," my heart jumped and my ears opened to listen a little closer–in other words it really resonated with me. As an English speaking, budding librarian living in Hungary, my 'in-person' professional network, at least with other librarians, equals zero, which means that all of my professional network is online. Some of my professional connections, such as some of the students in this class and our professor, I've had personal contact with, but others I have only read their writing or they have read my writing.
The interesting thing is that the majority of my connections this semester, apart from fellow iSchool students and professors, rose out of a connection which was not made. For my international librarianship course I was assigned to be part of the International Librarians Network (ILN) peer mentoring program, but unfortunately my original partner was unable to participate. Since I didn't have a partner I had to do other activities instead, so I participated in ILN Twitter chat, volunteered at the Library 2.015 Conference, and submitted a postcard to the ILN blog. Each of these activities allowed me to gain a deeper knowledge of the library profession and 'meet' people I may never meet in person. One of the most meaningful connections I made was through the Twitter chat, when a Hungarian-Slovakian LIS student contacted me about chatting. In the end she became my ILN peer mentor and my connection to Hungarian libraries. We spend an hour or two every week chatting on Facebook about education, libraries, and life. Being able to learn about Hungarian LIS education and Hungarian and Slovakian libraries through my mentor is invaluable. I believe that she has learned about North American libraries through me as well. Going back to the quote about professional connections being online, I believe this is one of the most significant professional connections I've ever made, but I am still hoping that one day soon we can make an in-person visit.
A note on ILN: If you have time, I highly recommend becoming part of the ILN peer mentoring program to broaden your horizons past North America. It works in rounds, so that you do not need to make a long term commitment, plus they give prompts every two weeks to keep the conversation going. Information on the program can be found here.
————————————————————————————-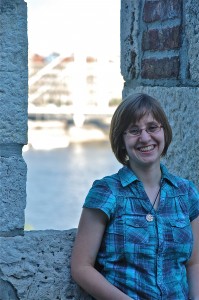 Andrea Meszaros is a Master of Library and Information Science student at San Jose State University School of Information and the librarian at the International Christian School of Budapest. She is originally from Ontario, Canada, where she was a cataloger before moving to Hungary. In her free time she enjoys reading, traveling, learning Hungarian, and playing the ukulele.