The book entitled "It's Complicated: Social Lives of  Networked Teens" by Danah Boyd offers various examples, explanations, and even contradictions to the "issue" of teens and social media. The book is broken into eight chapters: identity, privacy, addiction, danger, bullying, inequality, literacy, and searching for a public of their own. On a personal note, I loved the book! I found so much information that I have been craving from other resources and statistical data, but they rang loud and true throughout the book. I could write an additional post just on the book and my thoughts (and perhaps I will), but for the focus of this assignment I will try to keep it on track with the book, the course, my opinion/takeaways and tying them all together.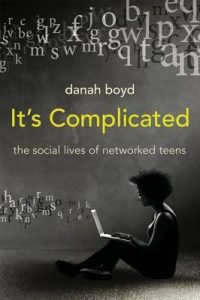 Overall, the book tied nicely in the content of this course, because it discusses a type of user (teens), a hyperlinked community (social media), and the effect and expectations of such a community (the positive and negative). In addition due to the fact that this course is focused on the hyperlinked library and the participatory culture that stems from it; the interaction between teens and social media is a relationship that deserves understanding and exploration. The reason I deeply believe this is the fact that most communication, expression, and information sharing is occurring digitally and sometimes through social media. Furthermore, the relationship that teens, today, make with social media will impact their future use, and thus, their use as adults and parents. Consequently, Boyd's journey in writing "It's Complicated" is an important one to understand for bridging the gap between social media stereotypes (often prescribed by concerned parents) such as social media addiction, obsession, digital native, digital naives, lack of social skills, etc. and teens.
Social media in general can be used by business (marketing), family and friends (socializing), non-profit (promoting awareness), communities (socializing), or even information hubs (pages or groups that promote information awareness on a given topic). Social media does impact the methods and ways teens (and ultimately, everyone) share information. For young adults, social media is most commonly used an outlet for socialization and outward expression of their "digital" self in their own "space." Thus, teens share information about themselves, their day, their homework, their aspirations, and so on.
"Teens want access to publics to see and be seen, to socialize, and to feel as if they have the freedoms to explore a world beyond the heavily constrained one shaped by parents and school." (Boyd, 2014, 201-202)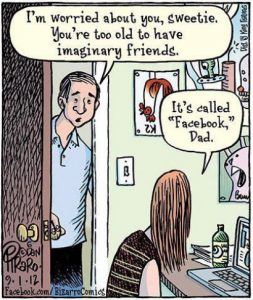 The importance of social media for teens may be a universal characteristic despite demographic, income or age. (Although the aforementioned reasons may heavily impact the type or frequency of use of social media.) Boyd's book offers insight into the usage types for teens from socialization, community, self-expression, privacy, a safe place, new identity, or even a "public" space for teens. This emphasis of a public space (i.e. feeling a place is part of their own personal space) can be easily translated to a library participatory culture or even hyperlinked library model. Teens require and thrive on participatory culture and should be provided such opportunities as prescribed by YALSA (p.8, 16, 27, 46). Stephens (2012) describes the process as "Participation occurs when someone welcomed as a guest feels as though they have become a host." With social media, this could be one of initiation to recruit teens into the library hyperlinked community from the virtual realm to physical one (i.e. TAB).
Librarians (and other information professionals) furthermore should understand and adapt the way they use social media for this demographic. Teen may be more likely to communicate via social media with libraries and librarians than in person or via phone. In addition, social media may allow for a larger community to exist within a hyperlinked library even among teens.
"Social Media sites break down geographic barriers and allow groups to form via various communication mechanisms" (Stephens, 2011, 6).
After/Personal Thoughts
My thoughts? I think- I feel- I am barely discovering the tip of the iceberg. I feel like I have discovered something worthwhile through this book and its analysis with the class- but it does not feel fully formed. But let me try anyways…
Social media can be revisited as a form of a hyperlinked community which are essential to the survival of the library. Social media for most individuals (just like teens) is an outlet to communicate with or to the world, but they are certain risks (i.e. privacy, bullying, and predators). These risks may impact the type of information (personal, professional, emotional, etc.) that is shared among social communities. Social media is somewhat of a new world for the emerging "digital natives" who more than likely will need assistance navigating through it properly. Libraries should be available for guidance, usage, and an engaging virtual participatory culture with teens.  Social media may offer a missing link for participatory service with their public library.
It is the correlation between teens, social media and participatory culture that I took away from this book. Social media has ultimately replaced a physical or public space for teens to communicate, self-expression, or even exist. Boyd recounted countless stories about social media filling the void of physical interactions among teens due to parent's restrictions, financial restrictions, or even time restrictions. The way the could translate to the library world is to take advantage of what social media has become for teens and make their respective "teen scene" the new filler for this existing void.
References
Boyd, D. (2014). It's Complicated: The social lives of networked teens. Yale University Press. City, State
Stephens, M. (2011, February ) The Hyperlinked Library. A TTW White Paper . Retrieved from: http://mooc.hyperlib.sjsu.edu/wp-content/uploads/2013/07/StephensHyperlinkedLibrary2011.pdf
Stephens, M. (2012, February). The age of participation. Library Journal. Retrieved from: http://lj.libraryjournal.com/2012/02/opinion/michael-stephens/the-age-of-participation-office-hours/
[There are other references and referrals through linked text which I do not directly quote, but allude to.]
————————————————————————————-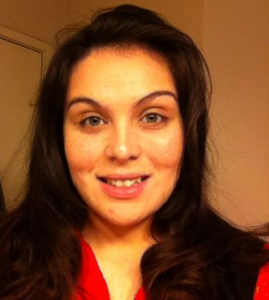 Brittany Garcia is MLIS student at San Jose State University with an expected graduation in May 2016. Her interests lie in exploring user experience, social media, intellectual freedom, gamification, and emerging technologies within public libraries. She, also, enjoys exploring old and new technologies, ancient history, ancient Latin and Greek, steampunk, and D&D. She can be reached at brittanymgarcia9@gmail.com.