When you ask my father to draw a picture of a dog, you get this:
When you ask me to draw a picture of a dog, you get something like this:
My dad is an artist and art instructor by profession and a semi-professional guitar player as a hobby. My mother was a practiced pianist and seamstress while working as an attorney. My sister can master any type of dance. I can sing, but play no musical instruments. I cannot sew and my dance moves, while enthusiastic, wouldn't be considered skillful or graceful.  The joy of being part of a family of very talented and creative people is you get to celebrate their accomplishments. The downside is I've spent my entire life comparing myself to them and convincing myself I am not a creative person – that I somehow didn't inherit those genes or gifts.
In their book Creative Confidence, brothers David M. Kelley and Tom Kelley (2013), reach out to people like me who struggle to recognize and nurture their creativity. The book addresses what they call the "creative myth" – that creativity is an inherited, fixed trait. To boost creative confidence, they re-frame the way we think about creativity – "it is a natural and human ability within all of us." They also highlight the importance of creativity in all types of personal and professional settings and provide exercises to get those creative juices flowing.
Creative Confidence presents examples of the wonder that occurs at the intersection of creative thinking, empathy for users of products and services, and technical skill. One example was of an individual who implemented an improved MRI machine design. Upon observing, however, that a young child needed to be sedated because they were terrified of the machine, he set about the task of doing another re-design to make it less frightening to children. A serendipitous moment of empathetic understanding resulted in fewer children requiring sedation for a standard MRI. In fact, some children had such a great experience they wanted to go through the machine again.
Throughout the book, the term "delight the customer" or "delight the user" was emphasized in relation to creative, user focused design. This focus on how creativity can have important impact in our world helps readers realize that nurturing and encouraging creativity isn't a selfish pursuit – it is vital to bringing about positive change.
The ideas and suggestions in this book resonated deeply with me especially after completing the foundational readings for the Hyperlinked Library course taught by Professor Michael Stephens at San Jose State University School of Information. In those readings, the recurring theme I noticed for an evolving library is that of constant, purposeful change (Casey & Savastinuk, 2007). In Creative Confidence, the authors also encourage the practice of allowing staff to champion and roll out creative changes with a less than perfect version with the understanding it can be adjusted and improved as feedback is received. This "Fail Faster, Fail Smarter" practice, as pointed out by Matthews (2012) will be vital if libraries hope to grow, evolve, gain user input and better match their needs. Kelley & Kelley (2013), present the convincing argument that this type of innovation will only take place when individual creativity is nurtured in a supportive environment.
In his blog post entitled, Library as Civic Square – Hyperlinked Libraries (2017), @will1 shared a report from the Aspen Institute written after a 2015 Leadership Roundtable in Library Innovation. In the report, they discussed a library's potential to "transform communities." Three action areas were developed by the group with the intent that, "each focus on libraries embracing technology as a means of anticipating and addressing community needs." (Aspen Institute, 2015).
As we have seen with recent national incidents like Charlottesville and impacts such as hurricanes Harvey and Irma, a communities' needs are constantly changing and can change in the blink of an eye. Fearless creativity partnered with empathetic connection will be the mechanism through which libraries can anticipate and meet those ever-changing needs with user centered design solutions.
---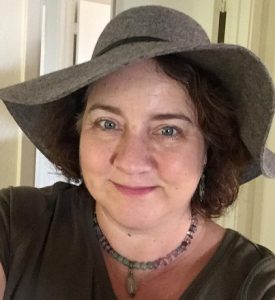 Dana V. Lema is a candidate for graduation in the MLIS program at the School of Information Science at San José State University. She currently works as a student assistant for the San José State University Dr. Martin Luther King Jr. Library in the Special Collections & Archives Department. and is a volunteer tutor for the Partners in Reading Adult Literacy Program offered by the San José Public Library system. Dana enjoys singing, geocaching, reading, travel and exploring the wonders of the Bay Area with her husband.
---
References
Aspen Institute. (2015). Executive Summary. [Web page posting]. Retrieved from http://csreports.aspeninstitute.org/Dialogue-on-Public-Libraries/2015/report/details/0152/Libraries-2015
Casey, M. E., & Savastinuk, L. C. (2007). Library 2.0: A guide to participatory library service. London: Facet Publishing.
Kelley, T. & Kelley, D. (2013). Creative confidence. Unleashing the creative potential within us all. New York: Random House
Mathews, B. (2012, April). Think like a startup. Retrieved from https://vtechworks.lib.vt.edu/bitstream/handle/10919/18649/Think%20like%20a%20STARTUP.pdf?sequence=1
San Jose State University School of Information (2017). Home Page. [Web page]. Retrieved from http://ischool.sjsu.edu/
Tame the Web. (2017). About Michael Stephens. [Blog post]. Retrieved from http://tametheweb.com/about-michael-stephens/
Will. (2017). Library as civic square – hyperlinked libraries. [Blog post]. Retrieved from http://287.hyperlib.sjsu.edu/hyperwill/2017/09/10/library-as-civic-square-hyperlinked-libraries/