Greetings everyone. I returned from Australia on August 12 and school started the following week. I am working to catch up.
I wanted to extend a warm THANK YOU to everyone who helped bring me back to Australia for an amazing month-long visit. Special thanks to everyone at ALIA and to Helen Partridge, Pro Vice-Chancellor (Education) and  Kate Davis at USQ, and everyone else for putting this amazing trip together. And special thanks to the incredible folks at the National Library of Australia who invited me to do a talk, and my good friend Warren Cheetham for inviting me to speak to the staff at Townsville CityLibraries. Shout outs to Paul Hagon, Kate Bunker, Andy Fenton, Timothy Grieg, and everyone else I got to meet or see again after all these years. 
The SJSU School of Information did a news piece on my trip. Here's a bit of it:
This summer Stephens came full circle and returned to Australia to give the closing keynote speech for the 2018 Asia-Pacific Library and Information Conference (APLIC) as well as spend a two-week stint at the University of Southern Queensland as part of the Eminent Visiting Scholar Scheme program. Stephens was coming off of a sabbatical during the spring of 2018, so this trip provided a bit of adventure before his return to teaching in fall semester 2018. "The trip to Australia I made 10 years ago was the start of the hyperlinked library. That's when I put it all together," said Stephens. "It paved the way for the class and much of my future research. On this trip I was able to talk to people who saw me back then, and they reminded me of how far things have come in the past 10 years. Ten years ago the focus was on using the social side of the web to extend the library, but now our conversations were about being present, meeting people in physical space and virtual, and finding balance." 
One of the highlights of the trip was presenting at the National Library of Australia in Canberra. The presentation and discussion, on the current and emerging trends related to U.S. librarianship and professional development, provided an opportunity to connect with Australian information professionals in the largest reference library in the country. Stephens then traveled to Townsville, Queensland to present a similar talk for CityLibraries Townsville, the site of a 2009 research project Stephens conducted with Warren Cheetham, Coordinator Planning and Business Development. Next on the agenda was spending time in Toowoomba, Queensland at the University of Southern Queensland (USQ). As a visiting scholar, Stephens was asked to take part in a workshop on the role of libraries in digital life at the Digital Life Lab. Stephens co-facilitated this workshop with Dr. Kate Davis from USQ. Stephens also gave a presentation titled "Telling Your Research Story: Reflective, Connected, Open." During his time at USQ, he met with academics and innovators for individual meetings. He also hosted a strategy session for members of the Digital Life Lab. USQ's Digital Life Lab hosted Stephens as part of their salon series where he gave a talk titled 'The Hyperlinked Campus'. This talk highlighted how educators can move their classrooms into the virtual space, with engaging and collaborative learning experiences.
Thanks for the warm welcome I received in Toowoomba at USQ: morning tea with the scholars in the Digital Life Lab, excellent discussions about social media presence for researchers, and more.
Links & Slide Downloads:
July 18, 2018 – National Library of Australia, Canberra – Libraries in Balance. Slide download here.
August 2, 2018 – Closing Keynote: "The Heart of Librarianship: Finding Balance in Challenging Times." Slide download here.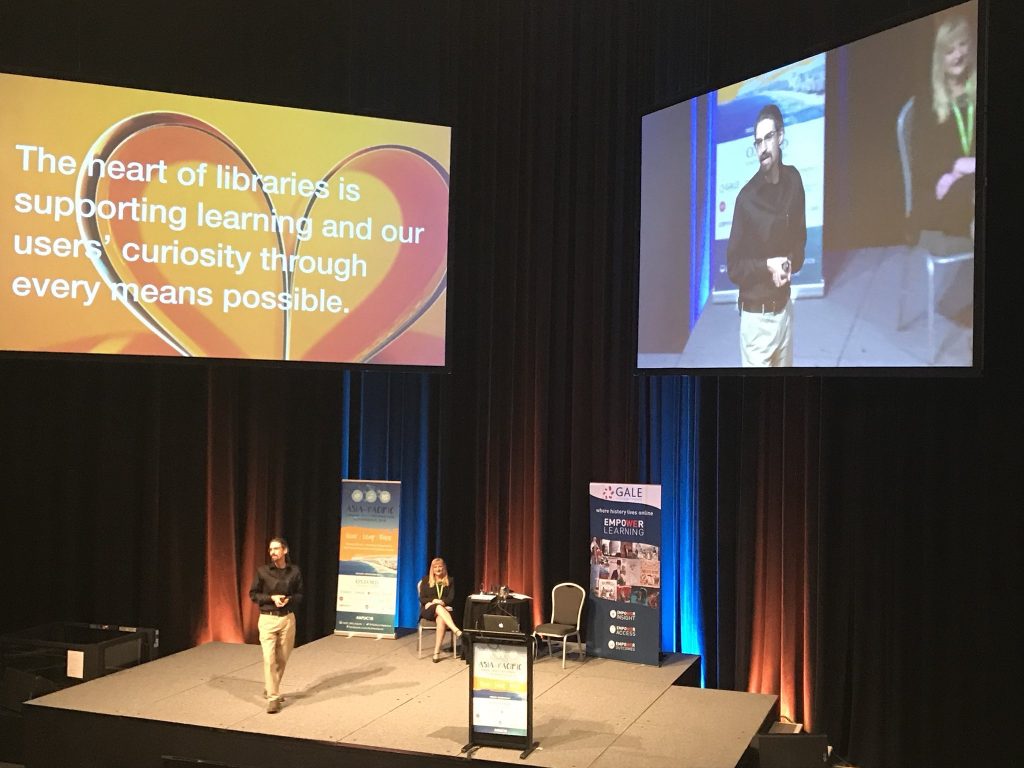 https://www.youtube.com/watch?v=inp1QYXA-9c
August 7, 2018 – USQ Salon: "The hyperlinked campus: connected learning and collaborative reflection." 
A recording of the session is now available. You can also download the presentation slides.
From a post at the USQ Digital Life Lab:
Dr Stephens' Salon, titled The Hyperlinked Campus, was live streamed from the USQ Toowoomba TV studio and attended online by over 80 people.
A recording of the session is now available. You can also download the presentation slides.
Before the Salon, Dr Stephens and I sat down and had a chat about trends and challenges in online learning. A recording of our 'couch interview' is also available now.
So once again, thanks to all the kind library folk I met, including APLIC delegates from Australia, New Zealand and Singapore. I can't wait to return to that part of the world sometime soon.
https://vimeo.com/user10756933/review/283608600/c66ce4702c