A TTW Guest Post by Sarah Jo Zaharako
My fifth grade library students just designed their dream libraries. Every Friday for a month, during library class, students collaborated to create slideshow presentations representing exactly what they wanted in a public library. Inspired by innovative library spaces, services, and programs worldwide, students considered possibilities that went far beyond their current perceptions of libraries. Brainstorming was outlandish, collaboration was messy, and students enthusiastically poured their hearts into this project.  They found images online, built idea boards using Google docs, designed spaces on MineCraft, and created totally unique models and drawings. Students who regularly avoided the library became project leaders and presenters. Reluctant readers became energetically involved in concept design. Library participation was at an all-time high.
The Dream Library Design Project is inspired by the Hyperlinked School Library model (Stephens, 2010), and the process is built on revolutionary concepts in education. Sir Ken Robinson laments that traditional modes of education, which adhere to a one-track-to-success form, often dislocate students from their diverse and natural talents. When this happens, students disengage from learning and, sometimes, from their passions altogether. This is neither fair to students, nor to our future society, which is dependent on a variety of talents (2010). I see this disconnect in the school library when students are not given an opportunity to engage in ways that are natural and exciting for them. For example, some students struggle to listen to an otherwise fascinating story if they feel physically and mentally crowded among 20 classmates. Students miss out on finding that just-right book because have trouble getting past social boundaries typical of their age in order to engage with the librarian. In general, many students don't feel at home in the library. This impression will stick with them as they move into the real world and will affect their attitudes toward public libraries, as well.
According to Will Richardson, the gap between school learning and life learning is increasingly wide (2016). Richardson outlines 16 Modern Realities that schools need to accept in order to foster a relevant learning environment. I will sum up Richardson's Realities by stating that it is impossible to teach students everything they will need to know because we cannot predict what they will need to know. The globally networked and connected world means that "teachers no longer stand between the content and the student" (Richardson, 2015) but that peer-to-peer interactions flourish. Finally, learning in the real world is about doing real work for real audiences, not regurgitating information on standardized tests.
The Library Dream Project reflects the modern realities by engaging students in a real life process. Students are given a concept, which they collaboratively brainstorm, research, and present. The content and mode of operandi is entirely up to them, allowing them to implement their diverse and natural talents. Once their designs have been presented, they will receive feedback from their peers, and the project will continue. Retroactively, the class will be informed that they conducted a successful research project, complete with searching techniques, documentation, presentation, and evaluation. Taught in the traditional style, research is boring for some, intimidating for others, or seemingly irrelevant to their interests in life. With The Library Dream Project, however, they are invigorated by how the process allows their ideas to come alive.
After a brief presentation highlighting some of the most innovative libraries in the world, students got to work brainstorming in small teams. I had provided a few prompts, which were hardly needed once students embraced the spirit of the design. The only rule was that no one's idea could be rejected, no matter how outlandish. Here are a few possibilities that emerged from very animated discussions on dream libraries.
What is the physical space like?
Circular design with rooms for each genre and and an info desk in the middle
Reading rooms made of marshmallows (squishy and soundproof)
Hammocks
Slides that take you from fiction to nonfiction sections
Rock candy lights
Lots of nooks for reading
Clear spiral staircases climbing trees
What can you do in this library?
Home delivery service: Books delivered by drones
Pet library: check out a pet for a week
Physical Recreation – ice skating; soccer; ping pong
Food court
Digital librarians
Multiple gaming spaces
Recording studios
What does it feel like to be in your library?
Fun
Sense of freedom
Cozy
Exciting
Relaxed
Magical
Awesome
Once the teams had settled on a few key concepts, they set about representing their ideas in a presentable way. Students gathered images from the Internet, created blueprints on Minecraft, and drew diagrams. A few made physical models using paper mache or smores ingredients.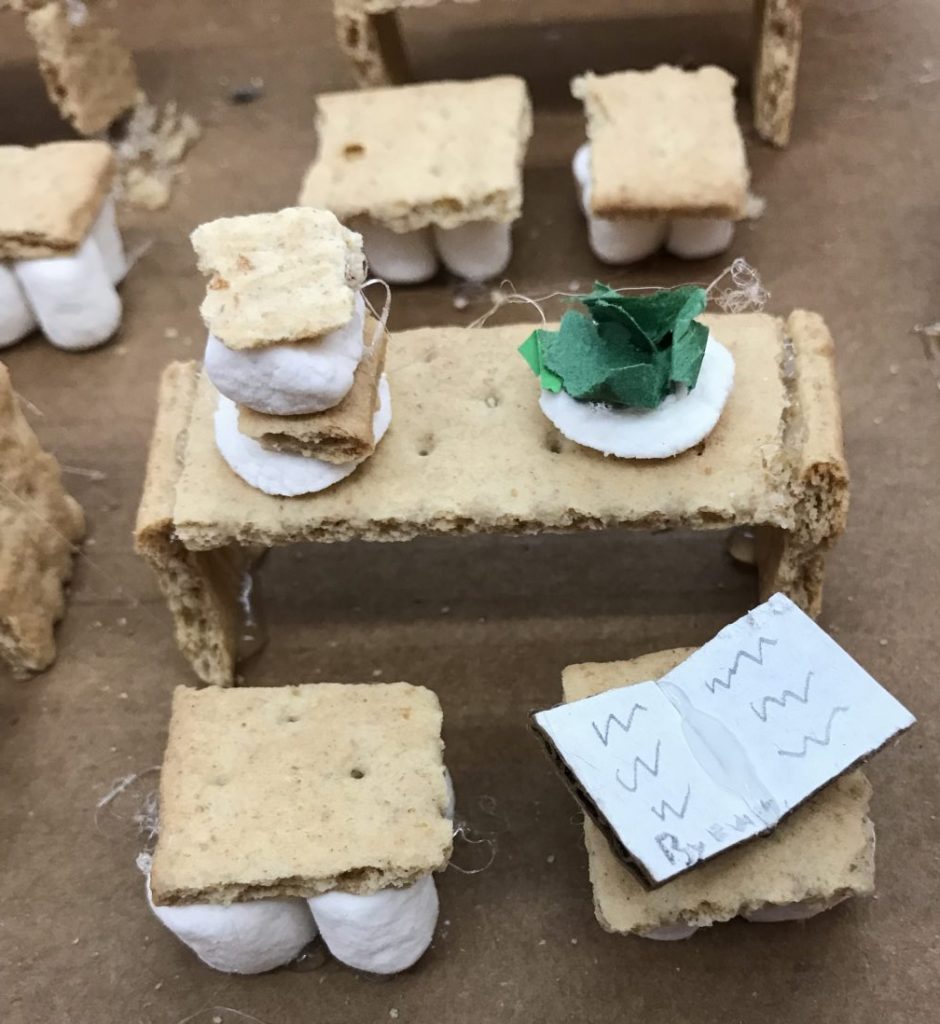 For the culminating experience, each team created and presented a Google slideshow in which they described their ideas to their classmates, teachers, and administrators. They prepared to answer one question pertaining to their design concepts: "Why?" The following slides, published with permission from the creators, represent the scope of their imaginations.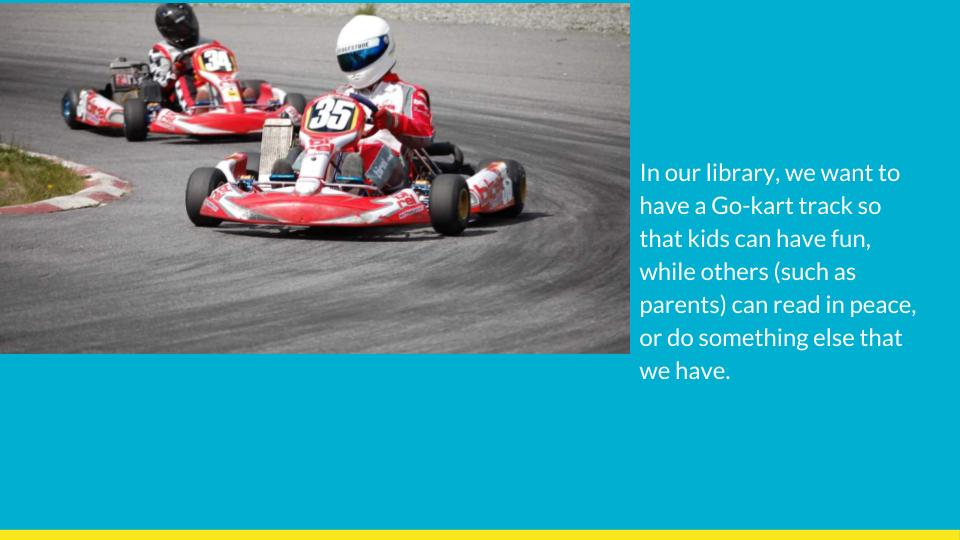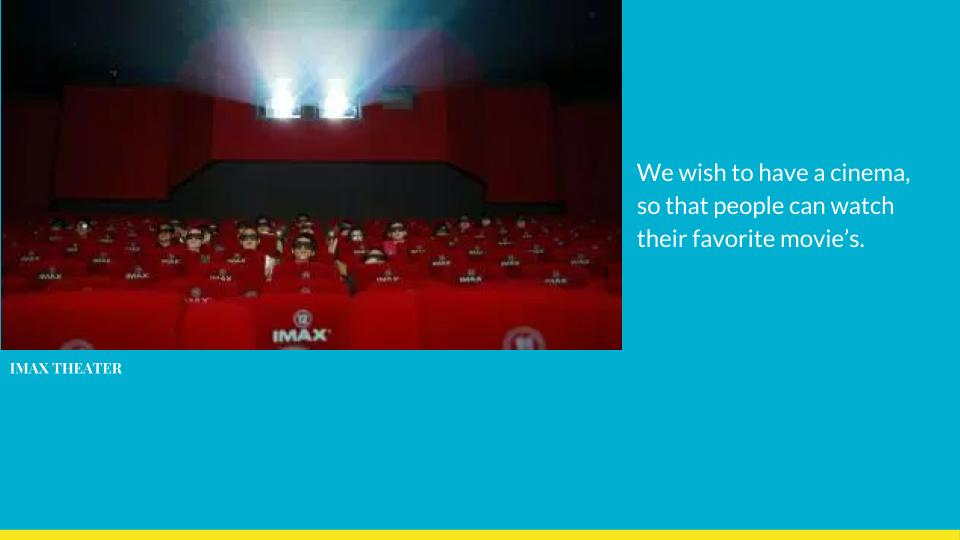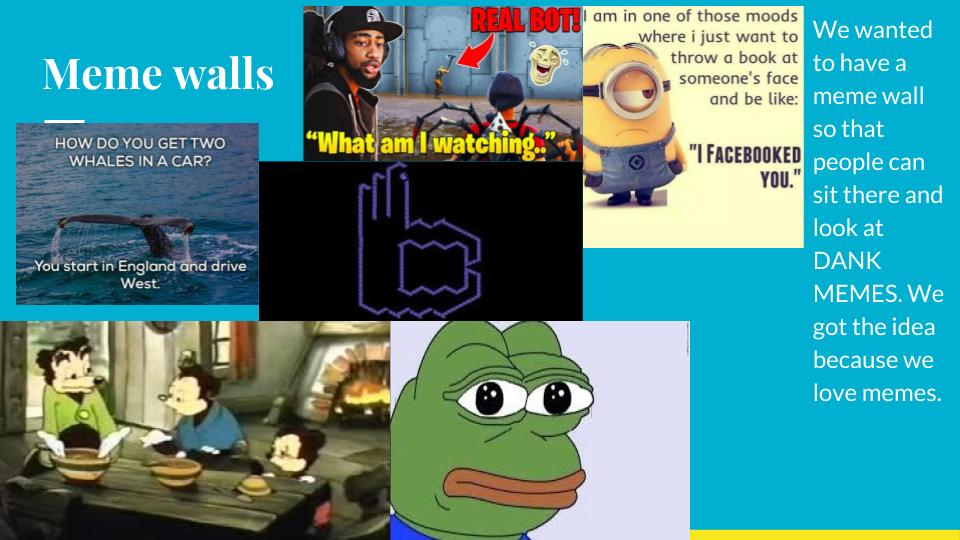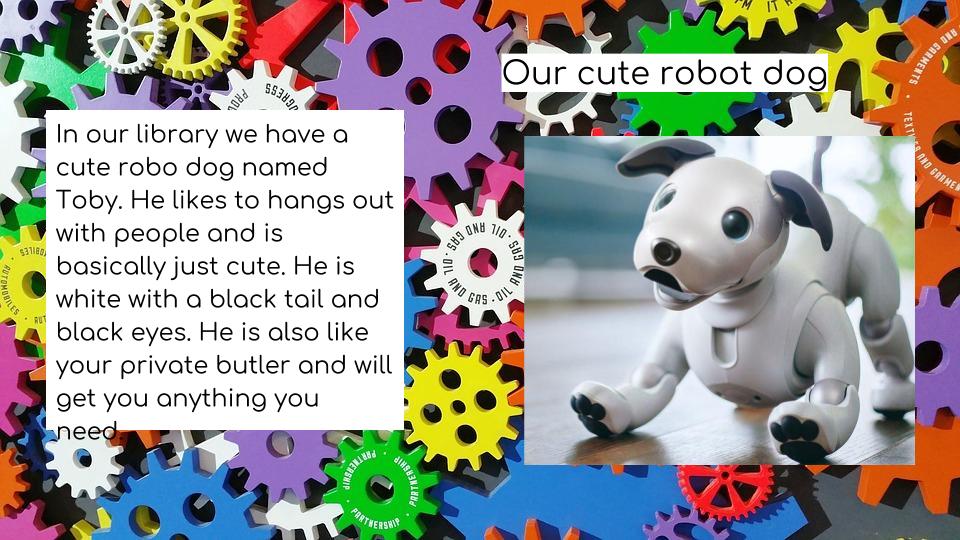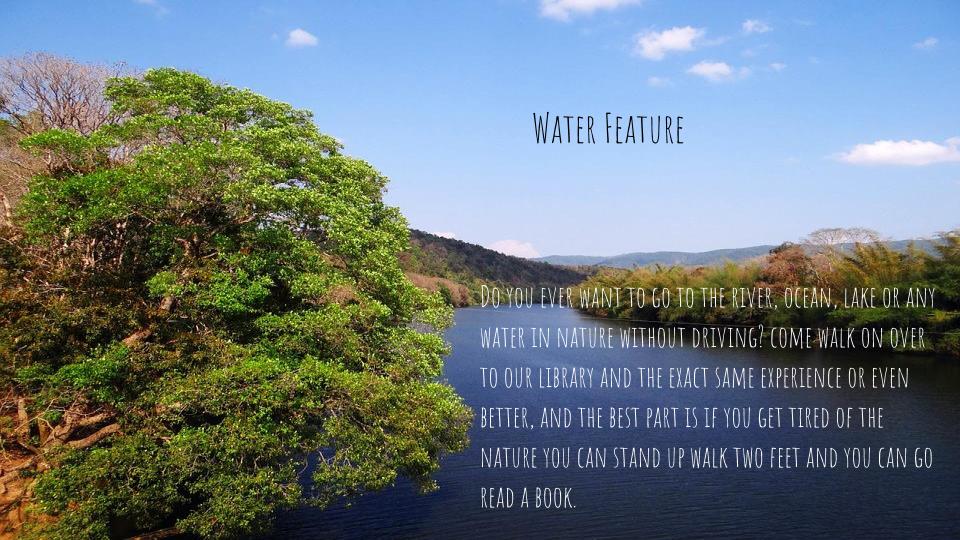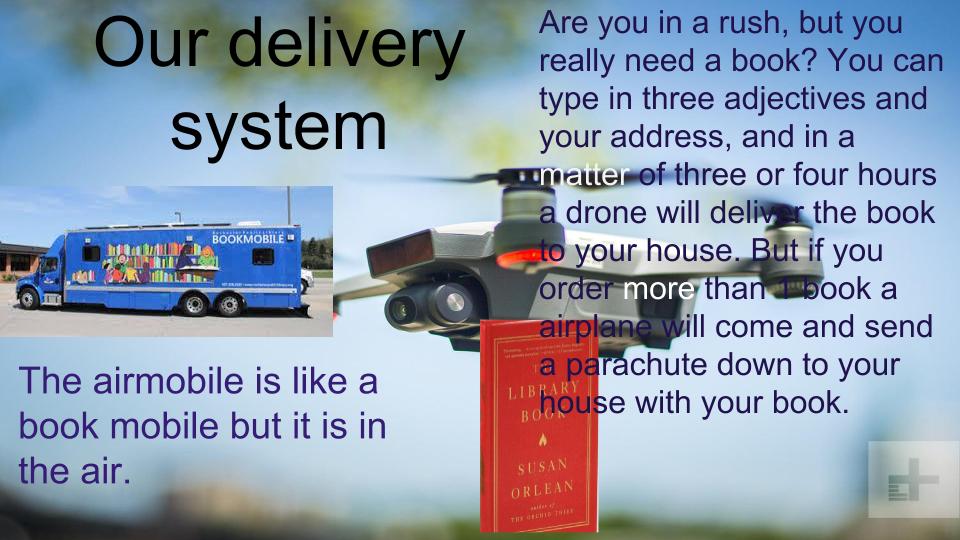 The insight generated from participatory, play based projects like this is invaluable for librarians. Simply observing students' process provides a goldmine of information about how they learn, what they want, where they're going, and how the library can participate now and in the future. The concepts my students presented may appear outlandish, but the emotion behind the ideas speaks volumes. When students say they want free movie screenings in the library, I hear the word "equity". When they design go-cart tracks and gaming spaces, I see a multi-purpose, community hub. Cute, robot dogs that deliver library books provide an enchanting experience. And a library that is synchronized with nature means patrons can close their eyes and breathe.
After students had presented their work, I asked them to reflect on their experience with the project via a short survey. One question asked how the project affected their perception of libraries. The following quotes say it all:
I learned that libraries don't need to be all books. -S
I see libraries as much more beautiful than before. -C
Libraries are cooler. -B
It made me want to go to one. -F
Libraries can be anything. -A
Creating a hyperlinked school library means designing project-based learning experiences that are playful and appeal to diverse interests. In other words, offer something for everyone and make the work irresistibly fun. When people are engaged in creating something new that reflects their own experience, knowledge, and interests, it makes the learning more powerful. I think this philosophy directly applies to the future success and relevance of libraries. When people play, they learn. And learning is a rush. It is delightful and playful and memorable. An environment that both promotes curiosity and evokes a sense of personal connection will energize patrons to participate. And this participation breathes ongoing life into a library.
Resources
Stephens, M. (March 2, 2010). The hpyerlinked school library: Engage, explore, celebrate [blog post]. Retrieved from https://tametheweb.com/2010/03/02/the-hyperlinked-school-library-engage-explore-celebrate/
Richardson, W. (2016). 16 Modern Realities Schools (and Parents) Need to Accept.
Robinson, K. (2010). Bring on the learning revolution!
---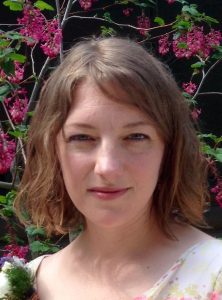 Sarah Jo Zaharako is an MLIS student at San Jose State University. She works in public and school libraries in the San Francisco Bay Area where she lives with her family. Sarah Jo is also a professional musician, performing regularly throughout the Bay Area.