A Listening to Student Voices post by SJSU School of Information student Kristen Valdez.
With the onset of the COVID-19 pandemic and the school closures that followed, many children around the world have become online students almost overnight. As teachers and administrators scramble to create an online alternative, many students are working out of paper packets and using school provided e-resources like Pordigy, Epic, and MobyMax to fill in the teaching gap. Teachers, who taught in the face-to-face environment, have been faced with the challenge of mobilizing their classrooms and administrators are now tasked with creating an efficient and multi-faceted e-learning platform, at no cost to families, and launching it in enough time to extinguish the fear of our students falling behind. So this begs the question, how will our students be educationally and emotionally impacted by becoming immediate online students?
Sir Ken Robinson expressed his views on the pre-COVID-19 educational system in his 2010 TED Talk, "This [education system] has to be transformed into something else…We have to recognize that human flourishing is not a mechanical process; it's an organic process. And you cannot predict the outcome of human development. All you can do, like a farmer, is create the conditions under which they will begin to flourish."
However, in this field, it isn't just the farmer and the crops. It isn't just the academic part that comes into play here. It is everything that goes along with putting your child, for hours on end, in front of a screen and hoping they are safe. Safe from cyber-bullying, safe from emotional stress, safe from eye strain due to long periods of screen time, and safe from online threats to cyber security.
This digital intelligence wheel printed in an article by Yuhyun Park, 8 digital skills we must teach our children shows the eight sections of digital intelligence we must instill in our children and quickly. From Digital Literacy to Digital Emotional Intelligence, each section of this wheel plays a vital role in our current educational condition. While the online world opens up a limitless amount of resources to further our children's education, we have also opened up a limitless amount of danger and it is imperative that we understand that COVID-19 is not the only threat to our children's health and safety. We have potentially set our children out as prey to those who use the internet for dark purposes and it is our responsibility as caretakers to be vigilant. We must pay attention, we must ask questions, and we must support our students as we transition them through this period of uncertainty. They will be educationally and emotionally challenged and maybe it will all be for the improvement our students and our educational system as a whole.
Maybe we can take this new educational condition and use it as an opportunity to re-evaluate and reset our educational system. Maybe this mandatory school closure is the push we needed to recognize that need for change that Sir Ken Robinson shared and correct our faults and weaknesses. Our educational system has been faced with a fight or flight situation and I believe that those teachers who love to teach, who have a passion for it, will do whatever it takes to make their students successful, no matter the educational structure. The implementation of a tech driven education is inevitable…why not start now?
Only time will tell how successful our students will be in comparison to the previous learning model. We may find many of our students actually do better using this online platform versus the traditional face-to-face mode. And maybe, just maybe, through this chaos and calamity, we can find our way to brighter, smarter, and more well-balanced students. Sometimes something must be broken to come back stronger.
References:
Robinson, K. (2010). Bring on the learning revolution!
Park, Y. (2016). 8 digital skills we must teach our children.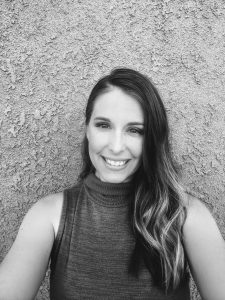 Kristen Valdez is a Research Analyst for CSU Bakersfield and a part-time distance learning
teacher for international students. She also does free-lance administrative/creative work for
local businesses and non-profits. Kristen holds an undergraduate and graduate degree in
business and is currently pursuing a Master's in library and information science through San
Jose State University.