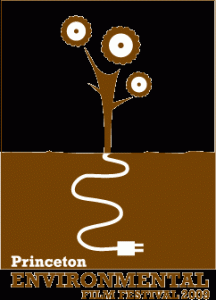 The Princeton Public Library is in the home stretch weekend of their 3rd annual Princeton Environmental Film Festival – an 11 day event that has touched upon many topics relating to the environment. What started as 5 day program in 2007 via an idea brought to the library by Kai Marshall-Otto (a student involved with the Environmental Club at Princeton High School) has grown in to an 11 day extravaganza with numerous films, panels, and speakers that touch upon many important topics. Close to 2,000 people have attended lectures, discussions and screenings in the first 9 days and some of the largest events are still to happen. In all, 36 unique programs will be have been presented over the 11 day period. Many of the films have included post-screening discussion with the filmmakers, with the filmmakers being flown in from as far away as Chicago. We were even able to secure an appearance by best-selling author Elizabeth Royte (author of the highly acclaimed Bottlemania) and a panel session with experts from Climate Central. It was our community-based steering committee that provided many of these important contacts.
Kudos go to Susan Conlon, Princeton Public Library's Teen Services Librarian, as she has been the driving force behind the festival for all three years. Susan's passion about this project is evident to all who encounter her and, as a result, Princeton Public Library has been able to assemble a community advisory group that has meant monthly since spring of last year to view and recommend films, give guidance and help locate speakers and funding. This year we were able to get significant funding both from foundations and corporations and, as a result, the only cost of the festival to the library is staff time.
It is heartening to see a packed house on a Friday during what some would still consider the holiday season and even more heartening to have 40-60 people showing up for noon time panels  each day during the work week. The amount of networking between sessions is amazing to watch – important connections are being made between people with common interests. Food has been donated by local merchants, environmentally-friendly products have been used throughout the festival and change is happening as a result of this festival. Each and every event has been met with enthusiasm and already plans for next year are being formed. When your community believes in what you are doing and wants to join in the planning then there are no limits to what can be achieved.
The schedule:
http://princetonlibrary.org/peff/schedule.htm 
Janie hermann is Program Coordinator and Technology Training Librarian at Princeton Public Library.