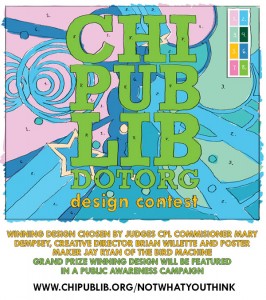 Hi Michael,
Thought we'd share an e-flyer for a design contest that we're running at the Chicago Public Library. Grand Prize winner has their work featured in a public awareness campaign for the library. For more info, visitwww.notwhatyouthink.tumblr.com. If you haven't seen our new campaign please visit www.chipublib.org/notwhatyouthink Thanks!
Bruce
Not What You Think team
This is good to see CPL reaching out to involve the city in creating a marketing campaign for the library. I am interested to see the results. Here's more info about the contest from their site:
Imagine. Design. Compete.
From March 5 – April 9, 2009, the Chicago Public Library is challenging you to showcase your creativity by designing a poster that's inspired by the library and uses the URL chipublib.org.
Judges.
Your design will be seen by some pretty important people. Knowing the competition is going to be fierce, we've brought in some big name judges: Jay Ryan of The Bird Machine, Chicago Library Commissioner Mary Dempsey, and All Terrain Creative Director Brian Willette.
Prizes.
Want hundreds of thousands of Chicagoans to see your design featured around the city? Prizes include your work posted around Chicago through ads and t-shirts, a framed pencil drawing of a Jay Ryan original screen print design, and a framed poster of your work.
Find Out More.
So what are you waiting for? Click here for more details and how to enter.
Need some additional help or a space to create? Visit your local Chicago Public Library branch and browse their many design books and media or simply enjoy the quiet atmosphere that will surely get your creative juices flowing. Click here to find the branch near you.
Good Luck!