I spent part of the afternoon today reading through a wonderful book called Blog Blazers: 40 Top Bloggers Share Their Secrets. After writing my dissertation on the motivations of early adopting librarian bloggers, it's nice to see such a broadly diverse group of well-known bloggers sharing similar thoughts about their writing and what makes a good blog tick. Author Stephane Grenier interviews 40 bloggers – many of whom may be well known to TTW readers including Seth Godin, David Armano and Jessamyn West, all sharing their insights in the book.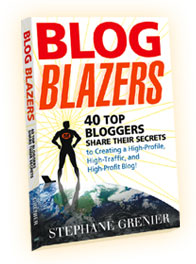 I'm especially fond of the question Grenier asks many of his subjects: What tips can you share on writing a successful blog post?
Seth Godin's answers include: Use lists (NICE!), Be topical, Break news and write posts that will be readable in a year.
David Armano weighs in with Find your voice, Do something different, Be true to your brand, Provide value and Only write what makes you happy.
Jessamyn offers these tips –  amongst my favorites of all time for bloggers – Be kind, Be original, Be thoughtful, Be part of a community, Ignore bad juju in its many forms.
I'd suggest this book as a good, informative and FUN read for folks looking to get into blogging, interested researchers looking at bloggers or those working with social media in their institutions.