Janie Hermann writes:
We are a pilot site at PPL for having Red Box services to supplement the library collection. This gives our library customers 24 hour access to the newest DVDs, means that we do not have to buy as many copies of new releases (thus saving money), and we can a cut of the money from having the Red Box on site that we can use for collection development. Win, win, win — at least we hope so. Pilot projects are exciting.
Article about the pilot program — we have been waiting six months for the arrival.
http://www.towntopics.com/dec2408/other2.php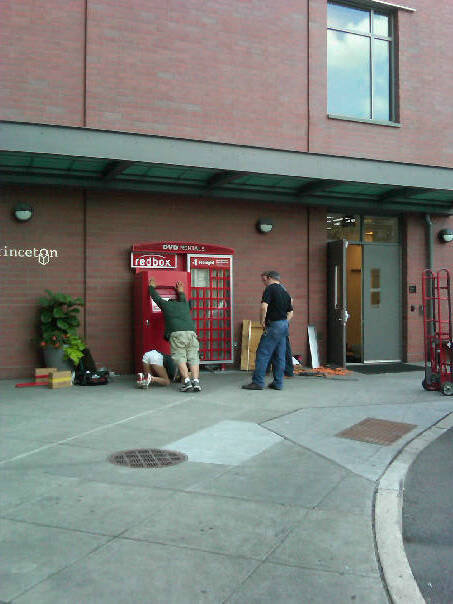 From the article:
In exchange for providing a location and power, the library will receive three cents on every dollar spent on a Redbox DVD. At Tuesday's meeting, Media Librarian Barbara Silberstein described how Redbox's presence would relieve the library of having to buy multiple copies of fleetingly popular new films, enabling them to purchase more foreign language films, "indie" productions, and TV series.
I am over the moon at the possibilities this partnership may yield for libraries. AV departments – take note!