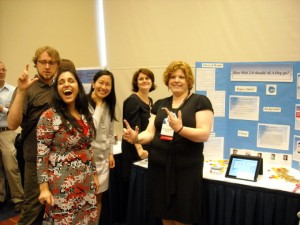 Team JBot (Justin Hoenke, Rafia Mirza, Jeannie Chen, Anne Krakow, Susan Jennings)
Phew…time flies.  It's been six months since my first post on being an Emerging Leader and now that I've "emerged", what have I learned?  Here goes.
THE PROJECT AND THE IMPORTANCE OF COMMUNICATION
To view the full report from our project, click here.
As a project, our group was tasked with surveying librarians about "how web 2.0 should ALA go with ALA.org".  Before we jumped in, our first goal was setting up communication.  Be it ALA Connect, Google Talk, or even a simple email, as an Emerging Leader you learn to embrace any form of communication.  And you also learn how to communicate…
Working virtually is no easy task.  Things can get confusing pretty quickly.  The approach of the JBots was to create a never-ending open dialog.  For this to work, we all brought open minds to the table.  Five equal partners who share the same goal.  Sounds great, but did it work?  Yes.
Having had a long discussion on communication at the beginning saved us a lot of hassle as we dug deeper into our project.  When our project got derailed for a moment, we didn't panic.  We talked and made it through.
DESTROYING THE STEREOTYPE
Over the past six months, I've heard just about every stereotype that one could dream up of about the Emerging Leaders project. It is an elite group.  It is nothing but busy work for ALA.  It's all about the connections you make. Say what you want, but having gone through the project I will say this: it is all about the experience.
The Emerging Leaders program gives us a chance to grow both as a person and as a librarian.  Life has its ups and downs, and so did our project.  However, I'm not going to dwell on those or bore you with the details.  Everything I said in my original post on this topic still rings true.  I feel much more confident about moving forward as the teen librarian in my community as well as a professional within the greater scope of ALA.
Those stereotypes we talked about above?  They're nothing but chains holding us back.  Let's destroy them and grow.
WE ARE FAMILY
Cue that Sister Sledge song while you read this section.
Randomly tossed together at the beginning of the project, our little group (which we dubbed "JBots") grew into a little family.  Now, I know what you're thinking.  Families are FULL of weird stuff.  But as I said above, let's destroy that stereotype and look forward.  Families are units with a common goal who share a common love for each other.  I think that's the way my group evolved.
All of our group interactions, decisions, and final output were the product of working together as a family.  Emerging Leaders groups grow from nothing into something that you will keep for the rest of your life.  You gain friends who will be with you every step of the way.  These friends will not forget about the little things.  They'll be there with a simple "great job" or "thank you" just when you need it.  They'll be there to share ideas and challenge you to be a leader EVERY DAY FOR THE REST OF YOUR LIFE.  Good stuff.
-Post by Justin Hoenke, Tame the Web Contributor
—–
Info on the 2011 ALA Emerging Leaders program can be found here
Click here to read "On ALA Emerging Leaders", which talks about my experience as I began the ALA Emerging Leaders program.
(as a companion  piece to this post, might I recommend this wonderful post by @charbooth)