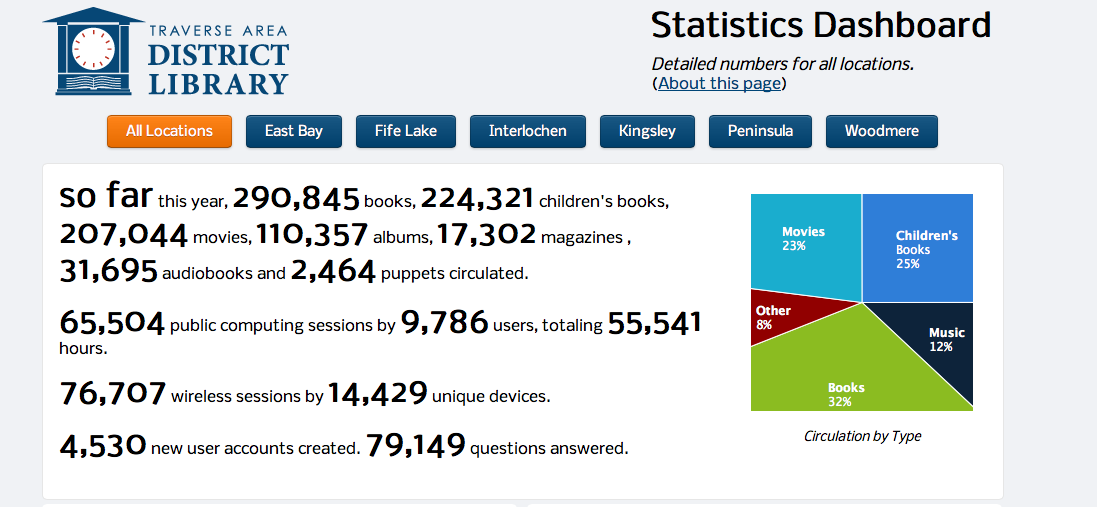 Nice news story about my home library:
http://www.theticker.tc/story/how-traverse-city-really-uses-its-library
by Lynn Geiger
"I love looking at data of all kinds, but not everyone does," says TADL Director Metta Landsdale of the system that offers data and insight into material circulation, library use and collection size. "The dashboard presents what I believe is excellent TADL performance in a way that more and more people can absorb and appreciate."
In addition to those nearly 290,000 adult books, 222,658 children's books have been checked out in 2013, along with 205,484 movies, 109,578 albums, 17,217 magazines, 31,492 audiobooks and even 2,456 puppets. TC's most popular read right now, according to circulation figures? First Sight by Danielle Steele. Movie? The James Bond thriller Skyfall. Music? 21 by Adele.
All the data can be viewed district-wide or by each of the six individual libraries. "That allows our champions and our critics to see the value of the different community libraries and how they each serve their communities differently," adds Lansdale.
Think you see more people in front of a computer than a book when you've been at the library lately?
Here's what the numbers say: 65,504 public computing sessions so far in 2013 by 9,786 users totaling 55,541 hours district-wide. Additionally, it has recorded 76,208 wireless sessions by 14,340 unique devices.
Lansdale says the dashboard's graphs detailing computer and wireless usage by week illustrate "the pressure on public libraries for continual improvement of broadband to support our visitors with mobile devices and also how the use of public computers, although still strong, is declining."
Scott Morey, assistant director of technology for TADL, is part of the team that launched the statistical dashboard, created by using common, open-source, free software.
"The interesting thing is we got so many calls and emails from people – from as far away as Spain and Greece – wanting to know how we did it," Morey says. So the library has published its "how to" for all to see here.