Note from Michael: I was honored to work on this project for a second year. The 2015 report offers a cohesive and thoughtful approach to the future. I hope you'll check it out.
The New Media Consortium, in collaboration with University of Applied Sciences (HTW) Chur, Technische Informationsbibliothek (TIB) Hannover, and ETH-Bibliothek Zurich have recently released their New Horizons Report > 2015 Library Edition. A five-year horizon examination of key trends, significant challenges and important developments in technologies, their work examines the potential impact on academic and research libraries.
The report was written by the 2015 NMC Horizon Project Library Expert Panel. If you'd like to take a peak at the wiki that chronicled their work and produced the report follow the link here.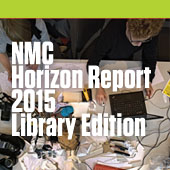 > Download the NMC Horizon Report > 2015 Library Edition (pdf).