I was excited to be a guest host on the Circulating Ideas podcast where I interviewed Lane Wilkinson,Director of Library Instruction at the University of Tennessee at Chattanooga. Listen to our conversation here: Circulating Ideas episode 104: Lane Wilkinson. Lane and I discussed how librarians relate to knowledge in a time of fake news and alternative facts.
"How information contributes to knowledge should be of the utmost concern for librarians. After all, librarians have deep-rooted affinities for both information and knowledge-creation…Patrons do not want misinformation or disinformation; they do not want to be deceived" (Lane Wilkinson, "Theories of Knowledge in Library and Information Science", in the collection Not Just Where to Click 2015, p.14).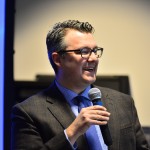 —————————–
Troy A. Swanson is Department Chair and Teaching & Learning Librarian at Moraine Valley Community College. He is the co-editor of the recent book from ACRL, Not Just Where to Click: Teaching Students How to Think About Information. You can follow him on Twitter at @t_swanson.