As information disseminators, curators and creators, journalists and librarians often walk the same ground as these professions seek to serve communities. I was fortunate to interview Jeremy Shermak, Moody College of Communication Doctoral Fellow at the University of Texas at Austin about journalism, fake news, libraries, and "truth."
This interview is part of a series I am doing on fake news & information literacy. My first interview can be found here: Circulating Ideas episode 104: Lane Wilkinson.
—————————–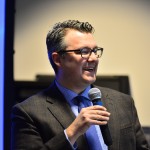 Troy A. Swanson is Department Chair and Teaching & Learning Librarian at Moraine Valley Community College. He is the co-editor of the recent book from ACRL, Not Just Where to Click: Teaching Students How to Think About Information. You can follow him on Twitter at @t_swanson.