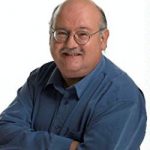 Is expertise no longer relevant? What is the difference between expertise and authority? How do we introduce students to these ideas within a world where fake news is prevalent? These are some of questions answered by Bill Badke in my interview with him on the Circulating Ideas podcast.
This interview is available at: Circulating Ideas episode 113: William Badke.
William Badke is Associate Librarian at Trinity Western University, Canada, with responsibility for information resources and research training at the Associated Canadian Theological Schools. He is author of numerous articles and the widely used textbook, Research Strategies: Finding your Way through the Information Fog 6th edition.
This interview is part of a series I am doing on fake news & information literacy. My previous interviews can be found here:
————————–
Troy A. Swanson is Department Chair and Teaching & Learning Librarian at Moraine Valley Community College. He is the co-editor of the recent book from ACRL, Not Just Where to Click: Teaching Students How to Think About Information. You can follow him on Twitter at @t_swanson.