A Listening to Student Voices post by SJSU School of Information student David Vargas.
When thinking of the "New Horizons" module and pondering on the thought provoking articles Professor Michael Stephens has shared, one "hits home" for me today. This article not only sparks curiosity, but instantly turns the imaginary lightbulb on in my head. A possible upcoming reality so bright because of potential the lumens emitted can't conceivably be measured. The article I'm referring to is titled: "Is Virtual Reality the Future of Field Trips?"
The genius article was written by Mike McShane and really highlights how the developing technology of Virtual Reality is allowing patrons access to experiences that transcend physical boundaries. Imagine living in the middle of nowhere, off the beaten path, or off the grid for that matter; access to Virtual Reality allows patrons to experience destinations that weren't reachable before (just virtually). Socioeconomic standings, no matter where you fall in the scale, can't be accounted for once you have access to the technology. Once you put on the headset and hold those wands in your hand, it's an even playing field. Mobility limitations can be temporarily alleviated, and new possibilities can be achieved.
Now the direction McShane (2018) explores is in the area of schools benefiting from Virtual Reality and pondering if it can be a suitable substitute for field trips. There are many great points McShane (2018) makes:
Pros
"Outside of a few major cities, access to classic works of art and historical artifacts is much more limited" (para. 4). (VR could solve this.)
"Virtual reality can also take students to places that they could never go in person" (para. 7).
Cons
"There is something about getting a permission slip signed, packing a sack lunch, piling onto a bus, trundling through unfamiliar streets, and descending on a museum or theatre like locusts that made the experience seem important and worthy of remembering" (para. 8). (In VR you'd miss out on many of these hallmarks.)
I think this article was fascinating, but I want to use this as starting point to talk about what's really been affecting my life and the lives of others worldwide: COVID-19. A pandemic that has massively altered the way we interact, live, work, shop, etc. Our world is rapidly changing, where "sheltering in place" and "social distancing" has become the new norm. Ponder with me, could VR make life better during these troubling times?
Imagine if Virtual Reality was now a necessity, everyone had a VR set at home, the way many today have a television, microwave, telephone, Social Media, and a computer. If VR software was robust when it comes to collaborating with others over the internet, similar to the way XBOX and PlayStation allows users to play together now, mixed reality rooms could be functional. Could public schools reopen in Virtual Reality while their physical doors remain shut? Can our children that are forced to learn online (from home) today be assigned to a virtual/augmented classroom that allows them to still be in school with their teachers and friends?
I can totally envision this in my head. I'm sitting in my school desk virtually, listening to my teacher lecture right in front of me while my peer behind me is passing me virtual notes in class. Not much has changed, just instead of wearing my usual baseball cap, I'm now wearing a VR headset. I think this would totally aide in preventing or at least reducing social isolation. The vibe is similar to Ready Player One, I know, but could really be a helpful option for public schools.
Could this be an appropriate answer for library book groups, varieties of programming, and storytimes in our current state? Just imagine it taking place through virtual reality lens: although we may be physically bound to the walls of our residence, we'd still have the comforts found in the "third space" or what sociologist Eric Klinenberg dubbed "Palaces for the People." Imagine a VR experience so sophisticated it could create hologram avatars for each patron currently using the technology, storytime at the Belmont Library would "more or less" feel like a normal "in the library" storytime. All this simultaneously happening while "sheltering in place." You could see your library friends, interact with them, tell a joke, etc. The storytime virtual room would react to your movement, allow you to sit cross-legged on the floor, high-five your neighbor, even dance along with the librarian leading the program to the "Hokey Pokey."
I was inspired by the HoloLens 2 that was shared in the "Things to watch," segment of the "New Horizons" module, and instantly imagined a mixed reality space that allows you to not only interact with neat software tools and people, but allows users to jump into everyday routine settings like public schools, libraries, the gym, you name it! I think author Mike McShane captured lightning in a bottle with his article, but when faced with today's problems of living with a pandemic McShane's focus can easily be shifted. I imagine a simple title change, "Is Virtual Reality OUR Future Now?"
References:
Cline, E. (2011). Ready Player One. Penguin Random House LLC.
Klinenber, E. (2018). Palaces for the People: How Social Infrastructure Can Help Fight Inequality, Polarization, and the Decline of Civic Life. Penguin Random House LLC.
McShane, M. (2018, June 13). Is Virtual Reality the future of field trips? Forbes https://www.forbes.com/sites/mikemcshane/2018/06/13/is-virtual-reality-the-future-of-field-trips/#427e5d7f1809
Stephens, M. (2020). New Horizons [Module]. INFO 287: The Hyperlinked Library. https://287.hyperlib.sjsu.edu/module-9-new-horizons/
Upload VR. (2019, February 24). HoloLens 2 AR headset: on stage live demonstration [Video]. YouTube. https://www.youtube.com/watch?v=uIHPPtPBgHk&feature=emb_title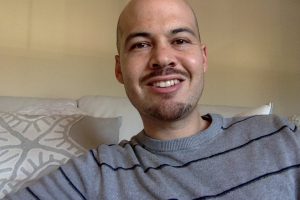 My name is David Vargas and I'm currently enrolled in San Jose State University's MLIS program. I've been a Community Technology Specialist for San Mateo County Libraries the past four years. Serving the public is extremely rewarding and aligns with so many of my core values. As I continue to grow in the field of librarianship I look forward to what the journey has in store: spiritually, mentally, and physically. For me friendship, discovery, knowledge, change, empathy, respect, heart, and love are some of the most important aspects of public libraries. I'm just glad to be here right now!