This blogpost highlights Professor Michael Stephens' teachings on professional development and PLE's (Professional Learning Experiences). In addition to, I will share several professional experiences of mine while working for San Mateo County Libraries that tie in nicely. Last, I'd like to reiterate one very, very, important step Stephens (2018) states should be accounted for after learning: "What can you do now?" (para. 8).  I like to think of this step as "The Follow Through." (side note) Professor Stephens (2019) video lecture "Infinite Learning: Professional Learning Experiences" sums everything up quite nicely, as this was my inspiration to write this piece.
Let's Rewind:
I started my professional library work back in late 2015, I was interviewing for my current position "Community Technology Specialist" with the library staff of the branch I'd end up working at (it was blessing). Seeing that I would be the potential Technology Specialist one of the main questions that needed to be addressed was:
"What is your experience with 3D Printers? "
Note: several staff were familiar, but this would be a main duty of the tech specialist to provide direct customer support.
My answer was "none." ?
I emphasized to the group that if given the opportunity this area would be a focus and priority for me. Lone behold after waiting several weeks and with answered prayers I was able to land this life changing position.
As soon as I started, I went to work on learning how to 3D Print, I had brief trainings from branch colleagues Alex and Marsi; all of which seemed to go in one ear and out the other. It was nice to ask them questions here and there, but I knew I had to spend time on my own with our Ultimakers to get acquainted. In my first week I was able to learn how to use the 3D Printers to print downloadable 3D models from Thingiverse. YouTube is one resource that can be used for Professional Development for FREE, and was instrumental for my information needs. I was so proud of being able to print a boat or Darth Vader helmet and was seriously showing off!
To my surprise I was made aware that San Mateo County Libraries had a 3D Printing committee that meant monthly to make 3D Printing decisions system wide and to form partnerships with those around the community; I was assigned to join. This committee essentially was like a monthly on going PLE mixed with professional development (quite the blend). I was able to meet with colleagues in person, learn about new initiatives we'd implement, get training on trouble shooting the 3D Printers, and work in partnership with the College of San Mateo (CSM) to help students 3D Print. Similarly, Dr. Stephens (2018) shares out from a survey he conducted on professional development: "A majority of the respondents specifically stated they wanted a chance to talk face to face with others: to share ideas, engage, and talk about their learning" (para. 2).
Pressing forward I was able to gain confidence and was learning new facets of 3D Printing like 3D Modeling with Tinkercad. Experiential learning played a big part of my professional development of this skill, getting hands on with the web-based software was extremely beneficial! It was a blessing my manager Kathleen granted me this time to learn and "tinker." Once I became proficient with the software, I was ready to teach patrons of all ages what they could do with 3D Modeling. Stephens (2016) states: "A mantra I use in my talks and in my classes is 'Learn Always' " (p. 141). This clearly was the case for both parties (employee and patrons).
We implemented a service for 3D Printing called 3D Reservations at my branch, this allowed patrons to reserve time to 3D Print. I was always on hand to help patrons if needed it. I also implemented a monthly 3D Modeling program for students in which I created 3D Printing curriculum, hosted the classes, taught students in real-time how-to 3D Model, and even printed out their files (since time was limited). This was quite rewarding, practical, relevant, and generated a good turnout; patrons loved it! This for me was "the follow through," I was afforded months to build up this program and now I was ready to share out!
One month during a 3D Printing committee meeting it was brought up from our director that staff could attend conferences (PLEs) to learn more about 3D Printing. I jumped at the opportunity and attended the Inside 3D Printing Conference in San Diego in 2016. There were plenty of 3D Printing tracks like healthcare, business, etc. My greatest takeaways were learning about the various types of 3D Printers available and stories of how 3D Printers are improving the lives of others. Learning from a humanitarian standpoint that 3D Printers were being used in Sudan to print limbs for people in an effort called "Project Daniel" nearly brought me to tears (see video here). I shared these stories with as many patrons as I could back at the branch.
Stephens (2018) also found from his survey on professional development that: "One respondent wanted 'personalized experiences with feedback and follow-up' and 'connections that last'" (para. 7). In 2018 I was able to take a Makerspace certificate course at Foothill College, it did just what the respondent asked for above. One of the courses in the program was on 3D Modeling in Tinkercad. My cohort met once in person with an instructor who taught us design in Tinkercad, it was neat to meet my peers who had similar roles and experiences. After the in-person class we were given course work online via Canvas for an entire quarter in which we were graded and received feedback. In the words of Dr. Stephens (2018), Foothill college helped to "Make It Real," and super fun!
"If libraries call themselves learning organizations, setting time aside for staff to explore and reflect is mandatory" (Stephens, 2016, p.142). The profound statement mentioned in the sentence above really reflects the culture of the library system I work for (San Mateo County Libraries). During my entire journey as Community Technology Specialist I've always felt supported by my manager, team, and administration. By implementing professional development and professional learning experiences employees can really thrive in their roles; I know this first-hand.
Just remember this ideology doesn't only apply when at work, it should be practiced in all aspects of life. Just be sure afterwards to implement "the follow through."
References: 
Autodesk. (n.d.) Tinkercad. Tinkercad. https://www.tinkercad.com/
Krause Center of Innovation. (n.d.) Makerspace Program. Krause Center of Innovation. https://krauseinnovationcenter.org/makerspace/makerspace-certificate/
Not Impossible. [Not Impossible]. (2014, January 6). Project Daniel – Not Impossible's 3D Printing arms for children of war-torn Sudan [Video File]. YouTube. https://www.youtube.com/watch?v=SDYFMgrjeLg
Stephens, M. (2016). The Heart of Librarianship?: Attentive, Positive, and Purposeful Change. ALA Editions.
Stephens, M. (2018). PLEs @ ALA. Library Journal. https://www.libraryjournal.com/?detailStory=ljx181002newsOfficeHours
Stephens, M. (2018). Personal, Actionable, Accessible. Library Journal. https://www.libraryjournal.com/?detailStory=personal-actionable-accessible-office-hours
Stephens, M. (2019). Infinite learning: Professional learning experiences [Video file]. Hyperlinked library. https://sjsu-ischool.hosted.panopto.com/Panopto/Pages/Viewer.aspx?id=6aee1751-fe1a-4d46-bff9-aaef0136212c
Thingiverse (n.d.). Thingiverse. Thingiverse. https://www.thingiverse.com/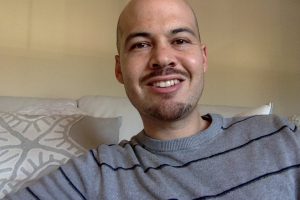 My name is David Vargas and I'm currently enrolled in San Jose State University's MLIS program. Studying under Dr. Michael Stephens and his course "The Hyperlinked Library" has been eye opening and life changing; truly a blessing. I've been a Community Technology Specialist for San Mateo County Libraries the past four years. Serving the public is extremely rewarding and aligns with so many of my core values. As I continue to grow in the field of librarianship I look forward to what the journey has in store: spiritually, mentally, and physically. For me friendship, discovery, knowledge, change, empathy, respect, heart, and love are some of the most important aspects of public libraries. I'm just glad to be here right now!