by: Gretchen Hams-Caserotti
Head of Children's Services
Darien Library
———
When I joined Darien Library Head of Children's Services we were building a new library. An opportunity to reorganize a library doesn't come very often. The Adult collection was already being rearranged and Louise Berry, our Library Director, encouraged me to explore some ideas I had about how Children's Libraries are arranged. I took a leap of faith and committed to the idea of reorganizing the collection with a user-centered approach by considering Function instead of Format. Our KidLit ReOrg was a huge project!
In Children's Services, we define the population we serve as children from birth to about age 12. Actually, we serve two completely different groups, children who are Readers and children who are Pre-Readers (including those learning to read). When planning the move into our new library, I considered the behavior patterns of people who fall into these two categories when they use the library and discovered two entirely different sets of approaches and needs. We realized that with traditional collection arrangements, the Pre-Readers aren't actually served well despite being half of our population!
We began to explore how we could improve our service to this group of very enthusiastic library users.  Not just service to just the children who are in their First Five years, but service for the busy adults in their lives, too.
Pre-Readers – a First Five Years (F5) collection
This population is still dependent on the grown-ups in their lives to give meaning to those little squiggly black symbols on the printed page. Their caregivers have unique demands on their time and their approach to using the library is often different than that of parents with Readers. Small children are hard work to take care of. The Picture Book Area, where caregivers choose books for their children, is the area most difficult to use because it is a remarkably large collection arranged by author's last name.  Since children ask for books primarily by subject, arranging them by author requires adults to spend extra time and effort finding materials, Most parents don't bother foraging through. They take their chances with random selections or go straight to a Librarian for help.
The most common things parents tell us are their children's age and interests (e.g. my son is 3 years old and he REALLY loves trains). The Librarians look through literally thousands of picture books to try to find the best match. I began using Free Mind open-source software to visualize the more commonly requested subjects and it was there that I discovered the broad categories that we have used to organize the collection. I laid out a new arrangement that makes our collection more useable for adults. Color-coding the sections enables the Pre-Reading children to be independent users as well.  We pulled out all materials from the Non-Fiction collection that are written for smaller children or adults and moved them to the F5 Collection.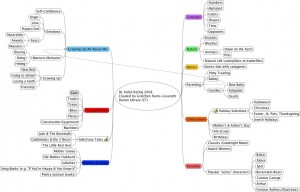 Instead of a Picture Books section of the library, we now have the following micro-collections called "glades":
Celebrations – a year round sampling of holiday books including other celebrations like Birthdays, Mother's & Father's Day etc.
Concepts – books about the alphabet, counting, time opposites, colors, shapes etc.
Favorites – popular characters, series and award winners.
Folk/Fairy Tales – mostly pulled out from Non-Fiction, the introduction to classics like The Little Red Hen, Three Little Pigs, Jack and the Beanstalk and Cinderella.
Growing Up – books about the child's experience; emotions (e.g. anger, sharing) getting a haircut, losing a tooth, going to school, getting a "Big Boy Bed"
Nature – books about animals, seasons, weather
Rhymes and Songs – here Mother Goose can be found along with picture books told in verse or of songs themselves (Hush Little Baby, The Wheels on the Bus, etc.)
Stories – this section is for books that didn't fit into any other category, but is promoted as a fun place to explore your imagination.
Transportation – books with Things That Go in them; trucks, trains, boats, bikes, cars, busses, etc.
In order to reorganize the collection according to this structure we literally pulled off the shelf and reviewed each of our 15,000 picture books so we could determine a classification. Then each book got a new color label and new call number to identify easily the item's location in the library (e.g. F5 Concepts Hoban).
Our new library opened to the public on January 10th, 2009, and the positive feedback from our members has been overwhelming. Michael has already kindly shared the blog post that was written by a local mom blogger about our new Children's Library. We have more new users than we've ever had before & our circulation has been up 25-30% from last year each month we have been open. Some of our members share their enthusiasm about the reorganization with us and others don't.  They just come in use their new library. I am thrilled because we don't want everyone to talk about the reorganization, we just want them to use it. Intuitively. Freely. It's theirs, after all.
Children's Services is, I think, the most dynamic and interesting area in public libraries at the moment. We are facing not just the issue of integrating technology into our services and way of thinking, but we must be mindful that those early Digital Natives are now becoming parents! How can we stay important and relevant in their lives when the world they have known has always been plugged in and connected? The conversation has to get serious and what we do has to extend much further than just providing storytimes.  In partnership with Linda Braun (LINK), Darien Library will be hosting a KidLib Camp, an unconference for children's librarians to discuss and explore Redefining Children's services in the 21st Century on August 13th, 2009.