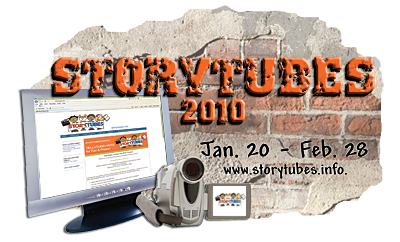 Entries for the third annual contest will be accepted for the public library sponsored "two-minute or shorter" my favorite book online contest from January 20 through Feb. 28.  The contest is open to all, with prize awards available to young people entering kindergarten through high school (K – 12).
Storytubes won the PLA Polaris Innovation in Technology John Iliff Award in 2009.   Alan Harkness, Director of the Piedmont Regional Library System, chaired the PLA award jury.  He said that the StoryTubes project was chosen for the prize because it "captured the essence of using technology in an innovative way to tie back into a core business function of public libraries:  sharing the joy of reading."
"The StoryTubes project gave local kids a means to use technology they were interested in to talk about stories.  The way that this project brought the community together to vote on the videos the children made was quite original and easily replicated in libraries everywhere."
Project participants have more than doubled across the nation each year as more young people and educators are discovering the creative magic of matching kids' love of reading with their interest in technology.
Please visit www.storytubes.info for more information about the contest and to watch educators talk about how Storytubes has positively impacted education in the classroom.