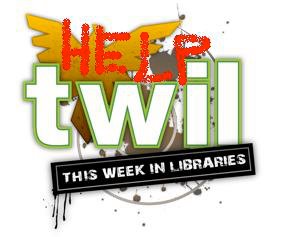 Folks – Please follow these links and read about the grass roots effort to help our colleagues and friends at "This Week in Libraries."
http://www.facebook.com/helptwil
http://helptwil.tumblr.com/post/15878761386/help-twil-it-is-time-to-lend-a-hand
This Week In Libraries has done so much for developing libraries worldwide. The show shares the stories of library innovations and best practices from all over the world.
Now it's our chance to help out. Our favorite hosts Erik and Jaap need our help. We want to do some crowd-funding for them. We are committed to raising enough money to keep TWIL on the air for its third season in 2012. Our goal is $10,000 US / €7,800 EU.The good news is that you can help. By supporting the "Help TWIL" campaign, you can keep the cameras rolling. Everyone who donates can have their name and country listed on an episode of TWIL as a public Thank You! Anonymous donations is also possible.
All you need to do is click the donation button on the top of this page and donate via the PayPal accounts that have been set up for this special initiative. It is quick and easy.
If you love This Week In Libraries, the first-ever global library internet TV show, and want to keep it on the air, please make a donation today and go to our facebook page for updates and extras. Please pass this along to your colleagues!
Thank you for your support for Help TWIL.
If you have in any way been touched by these wonderful fellows – Erik & Jaap – please consider donating to help them keep doing TWIL.