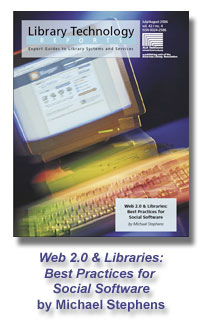 I am happy to announce the full text of both of my ALA Library Technology Reports are available now at the new TTW companion site The Hyperlinked Library.
The rest of the site is currently under construction, but for now you'll find:
Web 2.0 & Libraries: Best Practices for Social Software (2006) – http://thehyperlinkedlibrary.org/libtechreport1/
Web 2.0 & Libraries: Trends & Technologies (2007) – http://thehyperlinkedlibrary.org/libtechreport2/
Special thanks to my SJSU SLIS grad assistant Patrick Siebold who worked very hard the past few weeks inputting the content. I know the examples from '06 and '07 may seem out of date and quaint in some ways, but I'm very proud of the framework we used for the works back then. Conversations, Community, Connections, Collaborations – all those great C words Jenny Levine and I used throughout our early social software roadshows in 2005 & 2006 provide a useful context for looking at Web 2.0. I hope these works are still useful to some of you. Comments are open for adding more to the chapters and I plan on doing some types of updating as time permits.
The site will also serve my course Web sites and other items related to my teaching.