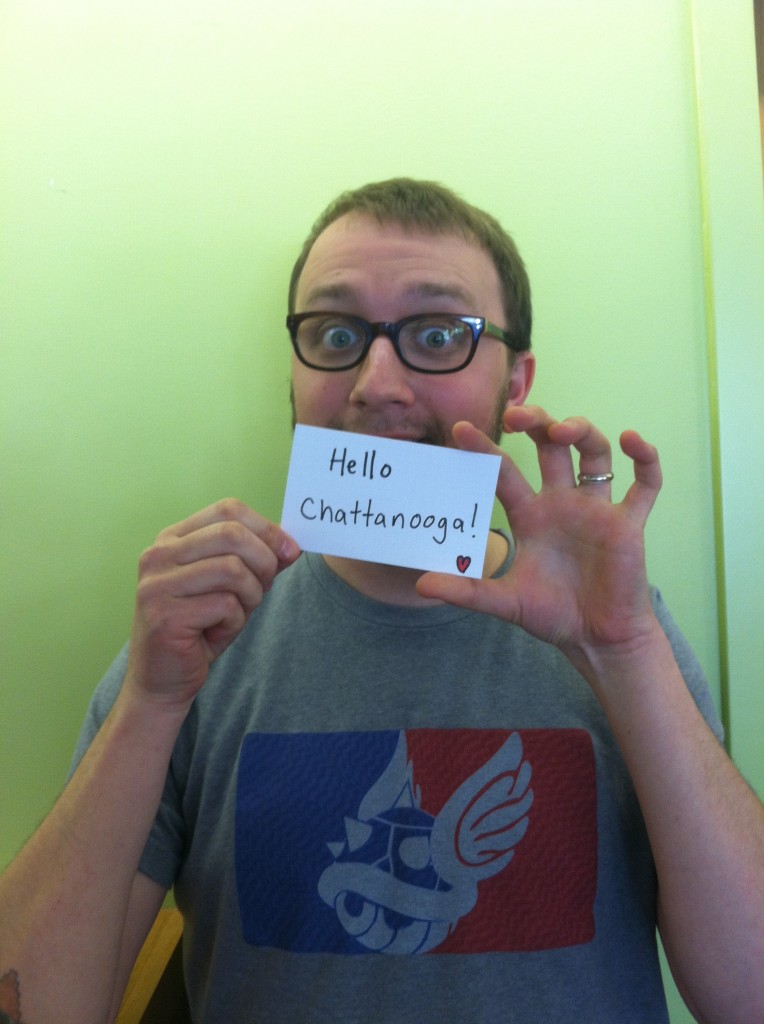 I have been so impressed with Justin Hoenke's work over the past few years and his outstanding contributions to Tame the Web. His work has risen above and I am so excited he is making this move!
In Justin's work as Teen Librarian, he has delivered excellent, user-focused service, innovative programming, and opportunities for learning and growth for his constituents. I am sure will thrive at such an innovative library as Chattanooga and the opportunities for innovation and outreach will only grow exponentially!  Justin has been the driving force behind his library directly engaging with the teen community in Portland. I can't wait to see what he does in Tennessee. Also: he shares his ideas and learning with the broader LIS community in a positive and encouraging way. He tries to share consciously – and does so effectively. His writing extensively about video games in libraries (https://tametheweb.com/2011/08/03/8bitlibrary-com-the-collected-writings-of-justin-hoenke-2/) lead to invitations to speak and share at national conferences and at a conference in Germany.
I admire his relentless innovation in service to teens and his generosity of spirit in sharing the process with librarians all over the world through social media.
Here are some of my favorite posts from Justin:
Create, Play & Read – Lending Devices to Teens
Make Music at the Library
Congrats Justin! "All I ever wanted was to know that you were dreaming…."
Justin writes:
http://justinthelibrarian.com/2013/02/15/hello-chattanooga/
Today I am happy to announce that I have accepted a position at the Chattanooga Public Library in Chattanooga, TN.
Words cannot begin to describe how very excited I am for this opportunity.  Chattanooga Public Library Director Corrine Hill is putting together a simply amazing team and I am so honored to be part of it.  Whether it be through their awesome ideas, programs, partnerships, and more , the Chattanooga Public Library is a place where awesome things are happening.
I cannot wait to join the community.
To close, I'll turn it over to Corrine.  This is what it's all about:
I want to see the Chattanooga Public Library completely re-define what a public library can do for its community. I want the public library to be the cultural hub of the city, but I also want it to be a place where the community can build content, not just consume content.
Corrine, Nate, and everyone else in Chattanooga….see you soon!
Let's do awesome stuff!
For more information on the Chattanooga Public Library:
Chattanooga Public Library Homepage
Public Library begins new path for technology and digital initiatives

Up Close: Bright Lights, Gig City in Chattanooga
TLN Interview with Corinne Hill
Chattanooga Only Weeks Away From One Gigabit Per Second