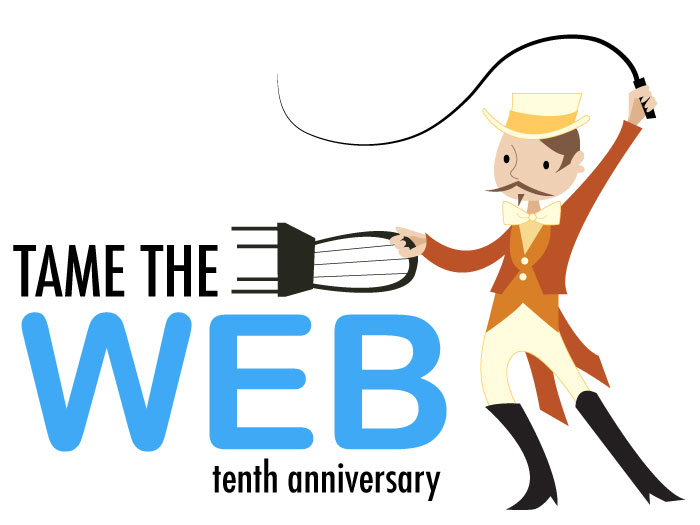 Greetings all!
Today marks ten years that Tame the Web has been up and running as a library focused blog.
After learning about blogs and blogging in 2002, I was inspired to begin blogging in April 2003. TTW officially began April 1, 2003, with a post about a recent presentation I gave at Computers in Libraries 2003, published from my brand new Apple laptop at Panera Bread in Mishawaka, Indiana. I learned as I went along, creating posts, adding links, and sharing my thoughts. Once in awhile, I would get a link from another blogger, pointing traffic my way. It was a thrilling time. Over the years, I believe TTW opened some mighty important doors for me: a PhD at UNT, teaching positions, and  presentations and research all over the world. I am in awe of what's happened in part because of this blog.
I would like to thank the guest authors and contributors who have posted recently, as my time for blogging has ebbed and flowed. I am happy that TTW has grown to be more than just me posting mean cell phone pictures and "Ten Things About…" essays to a family of folks that share and contribute to the profession. I must also thank the TTW readers who have been here for so long and have contributed in so many ways: by commenting, by emailing, and by introducing themselves at a conference saying "I read your blog." The support has meant the world to me. Look no farther than here to see what I mean: https://tametheweb.com/2007/06/18/jake-march-13-1994-june-18-2007/.
In the beginning, I used the iBlog software for 2 years, then Movable Type. In 2006, we made the jump to WordPress. You'll find links below to the old blog files. Warning: many of the links no longer work!
First post on TTW: https://tametheweb.com/iblog/B143020931/C1179432239/E961783833/index.html
Here's the 2003-2004 version: https://tametheweb.com/iblog/B143020931/
Here's the 2005-2006 version: http://www.tametheweb.com/ttwblog/
Over the next few weeks we will celebrate ten years of TTW with a look back, a look forward and some invited posts from people that inspire me. Thank you for everything! #TTW10!

To get started, here are some TTW favorites from the archives and the most popular posts by comments:
Libraries Doing Cool Things with iPods: This was when the "Library Circulates Shuffles" story broke and people were starting to talk about iPods in library settings. This post ultimately lead to this piece at LJ Net Connect. I really think it's cool that what starts as a blog post can become an article.
The Library Blogger's Personal Protocols: The ethics post. I believe these things are important. Karen gets it too!
Ten Things a Blogging Librarian Must Do: More ethics and guidelines for successful library blogging. One of my favorites: "And share yourself. I love learning about folks and how they see the world. Their POV may help me understand or change mine. It also adds to the community that is the blogosphere and more so the Internet. We are people… be yourself!"
Ten Steps to Insure Staff Buy-In: A recent post tied to a talk from Internet Librarian. One of the most important things library directors and administration should recognize is however you play out projects or implementations directly impacts library staff. They take the brunt of the change. Keep them informed and ask for their input. Library staff are not going to care about Technology X if their usual response is "No one tells us anything" when confronted with change.
Ten Things A Library Can Do to Boost their Techie Stuff* (*without breaking the bank): This post is a favorite of mine and it all rings so true in almost 2006. Michael Casey commented recently: "Looking at this more than a year after posting causes me much frustration and angst when I realize that so many libraries — libraries that can and should have embraced all of these long ago — have yet to adopt more than one or two. Blogs and RSS feeds, especially, seem to be a no-brainer, yet they continue to be difficult projects to push upstream." Well said!
Ten Things I've Learned Presenting at Library Conferences: This was born out of a conference I attended where one speaker of two talked so long, the other person hardly got to say two words. The first speaker went on tangents and blah blah blah'ed too long. I was irked as were many in the audience. Check out the comment too – it's so easy to fall into that acronym trap! I catch myself all the time. ILF..RSS..PDA..CMS..PHP…
Ten Tips for Technology Trainers in the Trenches: A precursor to the presentation I did in London with Rob.
Twelve Techie Things for Librarians 2005: A look forward for 2005, posted in January. How did we do? Where are we at?
Ten Things I've Learned as a Blogging Librarian: Ethics again! Typos! Virtual Communities! A cornucopia of my thoughts on blogging and libraries.
Threads of Conversation at ALA (2005): Could also be subtitled "Queer Eye for the Library Guy" because of a chance meeting with Ted Allen. A futurist post, I guess, as well, that includes this: "In my mind: Libraries will be headed by directors who grew up as gamers and got their degrees in new permutations of MLS programs. Librarians, I hope, will be visible and relevant and have presence. We won't be hiding behind a reference desk or a mental wall of technophobia." Written pre-discussion-of-Library 2.0 this is even more important now!
Popular Posts
#TTW10 "Tamer" Graphic by Theresa Papaurelis, Graphic Artist at Indian Prairie Public Library. (http://ippl.info)